Five Stories Of Defiance And Optimism In the Face Of The Recent Terror Attacks
5 June 2017, 16:43 | Updated: 6 June 2017, 09:54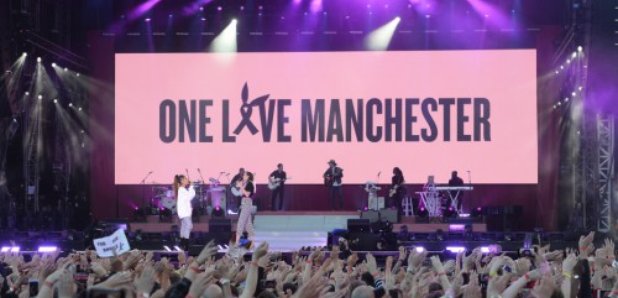 The people who've inspired us in the face of an impossibly difficult time, including Ariana Grande's mum, who told people, "Do not not be afraid"
The terror attack on London Bridge, which saw seven people killed at random on Saturday, left us all shocked and appalled.
Given that it happened just before Sunday's night's One Love Manchester concert, where Ariana Grande performed alongside the great and good of the music world (Coldplay, Take That, Katy Perry, Miley Cyrus and more), you might be forgiven for thinking that the country would lose hope.
Quite the opposite.
The concert was an extraordinary display of optimism, showing the world coming together to celebrate joy and diversity, while the country held it's head up high in the face of terror. Here are five inspiring stories from around the country.
The hashtag #thingsthatleavebritainreeling
The New York Times published an article that claimed Britain was reeling in the face of terror. Twitter was having none of it, with users creating the sarcastic hashtag #thingsthatleavebritainreeling,which documented the little things that really get our goat such as "going to make a cuppa and finding out someone used the last of the milk" and more.
#ThingsThatLeaveBritainReeling the possible sense that someone might be pushing into a queue

— LiamHCollins (@LiamHCollins) June 4, 2017
One man's stoic attitude towards his pint
The internet has been particularly impressed by the Blitz spirit of one of the people evacuated during Saturday's incident. He held on to his pint – and didn't spill a drop. Hero.
The dancing policeman in Manchester
In one of our favourite moments from One Love Manchester, a policeman from Durham was seen linking arms with a group of fans and dancing in a circle during Justin Bieber's performance.
A British police officer dancing with children is the most precious thing I've ever seen #OneLoveManchester pic.twitter.com/CIOhGV6FHM

— lilly (@kyIiearianas) June 4, 2017
"I had posed for a picture with these two young girls who were with their mum, and they asked if I'd like to dance," explained PC Paul Taylor. "I can't remember what was playing at the time, I think it may have been Justin Bieber. Since the clip went viral my phone hasn't stopped ringing!"
The London terror attack witness maintaining his resolve to drink gin and flirt with men
London Bridge witness Richard Angell struck a defiant tone following Saturday night's terror incident in London. "If me having a gin and tonic with my friends and flirting with handsome men is what offends these people so much, I'm going to do it more, not less," he said.
The Londoner won us over even more when it emerged that he went back to the next day to the restaurant he'd fled – so that he could pay his bill.
Ariana Grande's mum spreading the joy at Manchester One Love
Joan, Ariana's mum, attended the concert in Manchester and reportedly told fans, "Do not be afraid." No wonder her daughter is such an inspiration.
Ariana Grande's mum is strolling through the crowd telling fans: "do not be afraid" #onelovemanchester pic.twitter.com/v09Y3VXdql

— Helen Pidd (@helenpidd) June 4, 2017