1 Million People Expected At Bournemouth Air Festival
31 August 2017, 08:10 | Updated: 31 August 2017, 08:14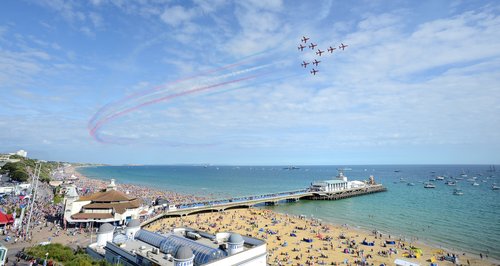 A million people are expected at the Bournemouth Air Festival as it returns for its tenth year.
Air Festival Director Jon Weaver said:
"We have achieved so much over the years, the highs and lows, awards and challenges - we can't wait for this summer's 10th event and, with our plan for more planes and more hours, hope everyone enjoys what we have planned!"
To celebrate the 10th Air Festival organisers are staging three shows on Thursday in the afternoon, evening and at dusk with the Red Arrows, supported by Morgan Sindall, kick starting the second of these shows at 6pm. This will be followed by their displays at 3.30pm on Friday and 12noon on Saturday.
There will be more jets performing than last year with two twin jet display teams - introduced last year the Strike Master pair with the Vampire pair and also returning is the MiG.
The much-missed Chinook is returning for the weekend and for those who missed them last year, because of the windy weather, the Great War Display Team and B25 Mitchell return as well.
On Sunday there will be a special very vintage display day featuring the SallyB, Mustang P51 and The Navy Swordfish in addition to the vintage aircraft already announced.
The Navy's ongoing commitment to the Festival will include a flotilla of ships, Royal Marines demonstrations, extensive military village area and a Thursday evening concert in the Lower Gardens Bandstand from Royal Marines Band, HM RM Band Collingwood. Commodore Jamie Miller said; "2017 will be another great year and give us the opportunity to showcase what we do best!"
RAF assets alongside the Red Arrows will be the Battle of Britain Memorial Flight, Chinook and RAF Village area. Red 1, Team Leader Dave Montenegro said:
"Congratulations to everyone who has been involved with the Bournemouth Air Festival, it is one of our favourite venues to display at and we're looking forward to being part of the celebrations in August!"
The Breitling Wingwalkers, Tigers Freefall Parachute Display Team (making daily jumps from an incredible 6,000ft and freefalling at 120mph), SallyB, Xtreme and Blades Aerobatic Display Team, complete the display programme to date.
In the evening Night Air welcomes Royal Navy Beat Retreat Sunset Ceremony and Royal Marines unarmed combat displays (Fri and Sat), dusk flying displays from the Red Devils, Otto and Twister Duo - finishing with fireworks on Friday and Saturday. Completing the sky-high evening entertainment don't forget the Red Arrows display at 6pm on Thursday.
The Battle of Britain Memorial Flight will not be displaying this year. The aircraft were grounded earlier this month due to technical issues. Jon Weaver said:
"We have had confirmation that the BBMF is still unable to display at the Bournemouth Air Festival. In preparation that this might happen we have been working behind the scenes to bring festival goers similar WW2 aircraft to the show this year from civilian providers.
"So, you will see Spitfires and a Hurricane and, new for this year, the Bristol Blenheim will now display Thursday, Friday, Saturday and Sunday."