AFC Bournemouth Celebrate Premier League Promotion
28 April 2015, 11:12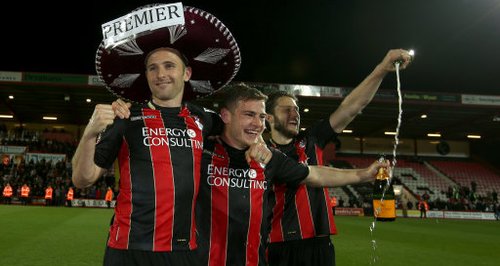 AFC Bournemouth know they're now all but guaranteed to be playing Premier League football next season.
They beat Bolton 3-0 at Dean Court last night (Monday 27 April) which leaves the Cherries three points and 19 goals clear of third-placed Middlesbrough in the Championship table with just one game to play.
Only an unlikely final-day scenario of a Bournemouth defeat at Charlton and a Middlesbrough win at Brighton with a 19-goal swing will deny the Cherries.

Manager Eddie Howe admits he never wanted to consider he would be managing at the likes of Old Trafford, Stamford Bridge and the Emirates come August until that final whistle blew.

``I honestly didn't start thinking it, you don't want to think it is possible,'' he explained. ``You work every day on each game and I hadn't looked that far ahead, that is my honest answer.

``It has been so intense, the Championship is such an intense league and people were waiting for us to slip away. They were looking at our squad and saying it might not be deep enough to maintain our push.

``We just tried to win the games and didn't think about our position too much.''


Chairman Jeff Mostyn, who wrote a cheque for £100,000 to save the club from liquidation in 2008, felt his side have achieved the impossible. He tweeted: ``OMG just got home 0250 What has just happened so proud of everyone @afcbournemouth on promotion to the @premierleague #DreamsDoComeTrue''

``Six years ago we were on the edge of abyss,'' Mostyn said.

``We've climbed right through the leagues and into the Premier League. It's just incredible. I don't think anybody, not even the craziest optimist, would ever have thought this was possible.

``The reality is we are going to be rubbing shoulders with football's glitterati next season and we'll do ourselves proud.

``For me this is achieving the impossible. For all football fans, this is the perfect story and hopefully it gives hope for every club that you can come back from oblivion and get to the Premier League.

``I am so proud of everybody and my total respect to the owner, the chief executive and all the staff. When I first arrived, we could not afford a first-class stamp.''


In 2009 they were deducted 17 points for being in administration, were forced to use bucket collections to keep the club afloat and had just seven points from 22 games when Howe took charge of his hometown side at just 31.

''I thanked the fans for their support because this club was down on its knees six years ago, we had nothing,'' Howe explained.

''But a group of supporters stuck with the club and put their own money from their pockets to keep the club alive. They are reaping the reward for all that loyal support.

''It is a club I watched as a kid and as a 12 and 13-year-old this is where I came to watch football every week. This club was good enough to give me a break as a player and a manager, I can't thank them enough.

''It shouldn't be them thanking me, it should be me thanking them for everything they have done. This club is a very special place and really does deserve its moment in the sun.''
The Cherries' ecstatic fans were singing the Match of the Day theme tune during the match and there was a big pitch invasion at the final whistle.
Former England captains Rio Ferdinand and Gary Lineker were among those who took to Twitter to congratulate the Cherries.

QPR defender Ferdinand, who had a short spell with the south-coast club as a teenager in the 1996/97 campaign, posted: ``Congrats to Bournemouth on promotion to the PL..fairytale stuff-Bet the players aren't washing their kit like they were when I loaned there!''

Match of the Day host Lineker wrote:
"They'll be an excellent addition to the PL. Look forward to welcoming them on MOTD.

``The achievements of Eddie Howe at Bournemouth make me wonder whether we've possibly found the English 'special one'.''