Blandford Warehouse Fire 'Accidental'
7 March 2018, 11:25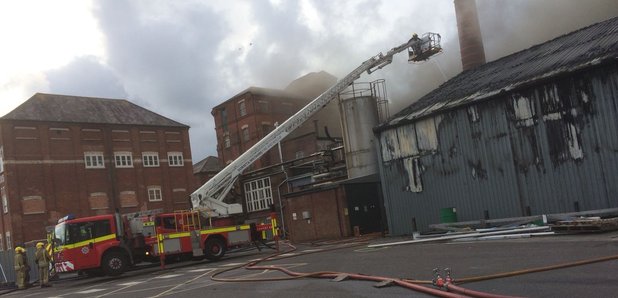 A huge fire, which has destroyed a warehouse next to a brewery in Blandford, is thought to have been accidental.
100 firefighters tackled the flames, at the Hall and Woodhouse site in Bournemouth Road, all through Tuesday night. The exact cause is being investigated.
Fire crews were called at 2.28pm yesterday (6 March) and found an empty warehouse undergoing demolition well alight.
Although the affected building is next to the brewery, the main site has not been involved in the blaze.
At the height of the incident, 15 fire crews were in attendance from across Dorset and Wiltshire, together with two aerial ladder platforms and other support appliances. 26 breathing apparatus wearers and four main jets were used to fight the fire.
A number of other agencies were involved at the scene as well, including Dorset County Council, Dorset Police, the Environment Agency, and Scottish and Southern Electricity Networks.
The attendance was scaled back to ten fire engines by 8.30pm, and by 8am this morning (7 March), the attendance had dropped again to three crews. From 9am onwards, it is anticipated to have two crews and an aerial ladder platform there to continue damping down and deal with hotspots.
Area Manager Byron Standen said:
"Our thanks go to the local community for their patience yesterday, when the smoke plume was particularly intense. It is now safe to open doors and windows in the vicinity of the fire. We are also grateful to the Hall & Woodhouse management, who provided refreshments to our firefighters and also ensured they had the right people on site to give us the information and guidance needed to bring this incident to a conclusion. We will remain on site this morning to ensure that the fire is fully extinguished."
Investigations into the exact cause of the fire continue, but it is believed to have started accidentally.