Bournemouth Beach Named Best In UK
21 February 2018, 08:07 | Updated: 21 February 2018, 09:19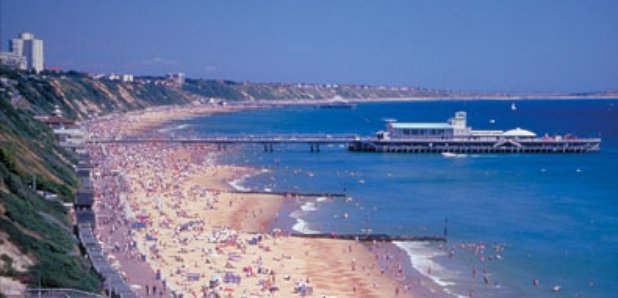 Bournemouth Beach in Dorset has been named the UK's best - and 14th in the world.
Travellers on Trip Advisor rated it fifth best in Europe - above beaches in Greece, Spain and Turkey.
Weymouth came fifth in the UK, and Hengistbury Head seventh.
TripAdvisor said: 'Bournemouth's seven mile stretch of sandy beach has something to offer everyone with its traditional seaside attractions, famous beach huts for hire, water sports and stunning views of the Isle of Wight and the Purbecks. The bay also boasts its own micro-climate, giving it some of the warmest sea temperatures in the UK.'
In the world ranking, Grace Bay in Providenciales, the main island of Turks and Caicos in the Caribbean, takes the title of world's best rated beach.
Councillor Pat Oakley, Portfolio Holder for Tourism, Leisure and Arts at Bournemouth Borough Council said:
"We're delighted and honoured to top the TripAdvisor list!
"We're especially thrilled with our international ranking. As the UK's Best Seaside Town, we're immensely proud to offer world class beaches on British shores without the need to travel abroad.
"We have four Blue Flags and two Seaside Awards which reflect our commitment to maintaining high standards across our beaches. I'd also like to thank Bournemouth's residents for their part in the protection and promotion of our award-winning seafront.
"The beaches are a precious and special part of the area's natural environment and constant vigilance is required in their protection.
"This accolade couldn't have come at a better time - we're now working jointly with our colleagues in neighbouring Poole and combined we are able to offer a total of 10 miles of sandy beaches."
Jon Weaver, Head of Resort Marketing and Events, said:
"We are immensely proud of the annual Bournemouth Air and Arts by the Sea Festivals while the Bay Run and Marathon weekends help to encourage healthy coastal lifestyles. Bournemouth's beaches are perfect for dog walking, cycling, surfing, running, playing football and volleyball all year round.
"We are of course also delighted that our friends and neighbours in Weymouth and Hengistbury Head have been included in Trip Advisor's ranking."
Top 10 Beaches in the World:
1. Grace Bay, Providenciales, Turks and Caicos
2. Baia do Sancho, Fernando de Noronha, Brazil
3. Varadero Beach, Varadero, Cuba
4. Eagle Beach, Palm - Eagle Beach, Aruba
5. Seven Mile Beach, Seven Mile Beach, Cayman Islands
6. La Concha Beach, San Sebastian - Donostia, Spain
7. Clearwater Beach, Florida, United States
8. Seven Mile Beach, Negril, Jamaica, Caribbean
9. Bavaro Beach, Bavaro, Dominican Republic
10. Playa Norte, Isla Mujeres, Mexico
Top 10 Beaches in Europe:
1. La Concha Beach, San Sebastian - Donostia, Spain
2. Elafonissi Beach, Elafonissi, Greece
3. Falesia Beach, Olhos de Agua, Portugal
4. Fig Tree Bay, Protaras, Cyprus
5. Bournemouth Beach, Bournemouth, Dorset
6. Kleopatra Beach, Alanya, Turkey
7. Spiaggia dei Conigli, Lampedusa, Sicily, Italy
8. Balos Beach and Lagoon, Kissamos, Crete, Greece
9. Playa de Ses Illetes, Formentera, Spain
10. Playa de Las Canteras, Las Palmas de Gran Canaria, Spain
Top 10 beaches in the UK:
1. Bournemouth Beach, Bournemouth, Dorset
2. Luskentyre, Isle of Harris, Scotland
3. Rhossili Bay, Rhossili, Wales
4. Brighton Beach, Brighton, East Sussex
5. Weymouth Beach, Weymouth, Dorset
6. St. Brelade's Bay Beach, St Brelade, Jersey
7. Hengistbury Head, Bournemouth, Dorset
8. Three Cliffs Bay, Swansea, Wales
9. Fistral Beach, Newquay, Cornwall
10. Barafundle Beach, Stackpole, Wales
Jon Weaver, Head of Resort Marketing and Events: "We are immensely proud of the annual Bournemouth Air and Arts by the Sea Festivals while the Bay Run and Marathon weekends help to encourage healthy coastal lifestyles. Bournemouth's beaches are perfect for dog walking, cycling, surfing, running, playing football and volleyball all year round. We are of course also delighted that our friends and neighbours in Weymouth and Hengistbury Head have been included in Trip Advisor's ranking."