Bournemouth Drug Driver Jailed For Badly Injuring Woman
10 March 2017, 13:09 | Updated: 25 March 2017, 09:19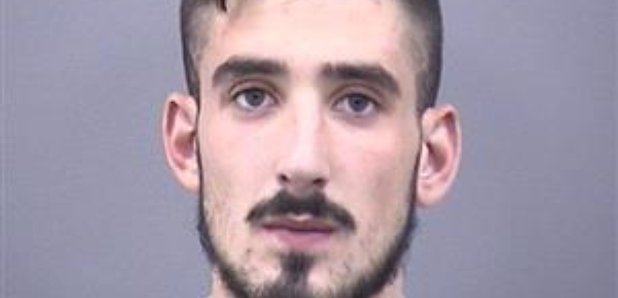 A drink and drug driver has been jailed for three years for causing a crash which resulted in a woman losing her leg.
Steven Michael Johnson, 22 and of Richmond Park Avenue in Bournemouth, was sentenced at Bournemouth Crown Court today, Friday 10 March, after pleading guilty at the same court on Wednesday 15 February 2017 to causing serious injury by dangerous driving.
He also admitted to two counts of drug driving, driving when alcohol level above the legal limit, driving without insurance, driving otherwise in accordance with a licence and failing to stop at the scene of a collision.
He was banned from driving for five years and six months and will have to take an extended test before he will be able to get a driving licence.
The court heard that on the afternoon of Tuesday 27 September 2016 Johnson had been drinking in The Talbot pub on Wimborne Road in Bournemouth at the junction with Pine Road.
He held a provisional licence and had bought a Ford Focus the previous day with the intention of learning to drive.
At around 5.10pm Johnson left the pub and got into the Ford Focus which had been left in the car park. Witnesses described the Focus wheel spin out of the car park and swerve to the left and the right along Pine Road.
As Johnson swerved right his car ploughed into the back of a parked Volkswagen Polo. The impact forced the Polo into a woman who was standing at the boot of her Mini Cooper which was parked alongside.
The victim – a 35-year-old from Christchurch – was pinned between the vehicles. Witnesses described seeing Johnson get out of the car and run away from the scene, the court heard.
Officers attended his home and found Johnson getting into a taxi. After he was arrested, Johnson told officers: "First time I brought (sic) a car. Got no insurance. I'm an animal. I smoke weed every day. Provisional. No insurance. I shouldn't have driven the car."
The court heard that Johnson failed both a roadside alcohol breath test and drug test. A blood sample subsequently revealed that Johnson's alcohol level was 139mg of alcohol per 100ml of blood. The legal limit is 80mg per 100ml.
His blood was also tested for drugs and the sample was found to contain 114ugl of Benzoylecgonine, a metabolite of cocaine, where the legal limit is 50ugl and 6.0ugl of Delta-9-Tetrohudrocannabinol which is the mind-altering ingredient of cannabis – the legal limit being 2.0ugl.
The victim was airlifted to Southampton Hospital following the collision. She underwent several operations but sadly lost her right leg above the knee.
In her victim impact statement she said:
"The effects of the events on 27 September 2016 will live with me forever. I have to try and build a whole new life for myself and my family and friends.
"I wasn't doing anything wrong or dangerous and so struggle to accept what has happened to me because it wasn't a consequence of my own actions but somebody else's who took no responsibility for theirs.
"My life today is not how I planned it to be. I wake up every day facing agonising pain, and I wonder just how I can actually start to get back to some sort of normality."
Police Constable Dave Cotterill, of the traffic unit, said:
"Steven Johnson had never passed his driving test or begun learning to drive when he made the conscious decision to get into a car he had just bought. Coupled with the alcohol and drugs he had taken, Johnson's reckless actions resulted in an innocent woman being seriously injured and losing her leg.
"Her life will never be the same again and the person responsible for that is Steven Johnson.
"Yet again this case highlights that alcohol and drugs have a serious impact on someone's behaviour and decision making."