Bournemouth East Cliff Land Slip Update
21 May 2016, 08:08 | Updated: 21 May 2016, 10:29
Work to clear the East Cliff Land Slip continues this weekend now a 120 tonne crane is on site to help clear the damaged lift carriages.
Here is the latest on the work from Bournemouth Council

A 120 tonne Crawler crane is in position within the area of the current road closure and works have been taking place from the top of the cliff to remove any loose debris from the slope and cliff lift areas. This has included an abseiling team on site removing rock-filled gabion baskets and any loose boulders.

On Saturday work will continue to remove of the damaged cliff lift carriages. The abseiling team are continuing to remove debris from the lift tracks in readiness for the lift carriages to be raised off the restraining rails to the working site at the top of the cliff.

After the lift carriages have been removed works will continue to clear the site of loose debris and large boulders, together with sections of cliff vegetation uprooted as a result of the cliff slip.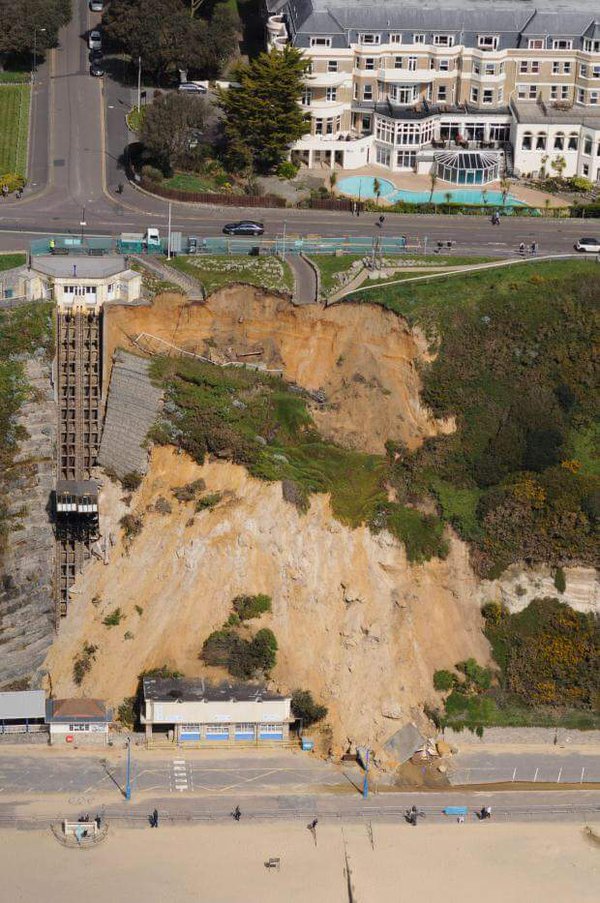 Once the cliff top is cleared of all loose materials and the damaged lift carriages removed, works will then focus on the bottom of the cliff area with the crane repositioned at the promenade level. Working in tandem with the abseiling team, debris and spoil will be cleared from the lower slope and the damaged structure will be removed.

A contractor working zone will remain in place at the lower promenade until further investigation and assessment has been carried out.

Larry Austin, Director for Environmental Services, said; "It is our intention to have the site cleared within the next couple of weeks ahead of the Wheels Festival, and in the meantime East Cliff Drive will remain closed to motorists. Barriers and cordons will remain in place and signage is there to keep the public informed. We would ask the public to observe these cordons.

"Once we have undertaken the clean-up operation we will establish any longer term actions that may be required."

A close and detailed inspection of the area of cliff from both the top and bottom has shown that no further movement has occurred, and works are now underway to clear the site as well as prepare for longer term actions.