Funeral For Bournemouth Man Killed In Syria Fighting IS
2 February 2018, 08:18 | Updated: 2 February 2018, 08:20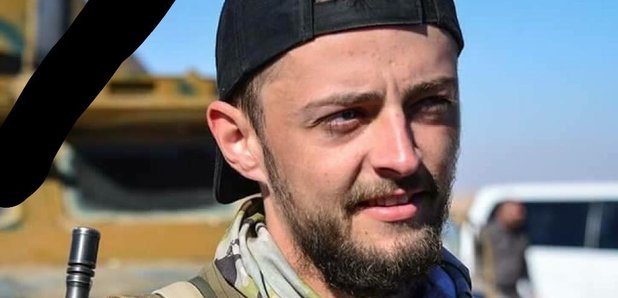 The funeral will be held later for a Bournemouth man, killed in Syria fighting against so-called Islamic State.
24-year-old Jac Holmes had been helping Kurdish forces clear landmines in the city of Raqqa in October 2017. Jac had been fighting with the Kurdistan People's Protection Units (YPG) since January 2015.
Jac's body was repatriated in January, along with that of Ollie Hall. He also died late last year after joining Kurdish forces. Their families and members of the Kurdish community laid flowers at Heathrow on their return.
A service is being held for Jac this afternoon at Poole Crematorium.
His mum Angie Blannin said she was "extremely proud" of her son, who had no previous military experience.
"He stood up for what he believed in and he had the courage of his convictions to go out and do something where he thought that the West were not doing enough," she told the Press Association.
"To defeat Isis (another name for IS) he felt that it was not just a Syrian problem, or Middle Eastern problem, it was a world problem.
"He wanted to go and do something about that and not just be a keyboard warrior."
Mrs Blannin said that when her son first said he wanted to go and fight IS she was "completely shocked" and thought she may be able to change his mind.
But she said the former painter and decorator was set on what he wanted to do and in the later stages had been keen to stay for the liberation of Raqqa. Describing Mr Holmes, his mother said:
"He had an incredible sense of humour, he was very straightforward and was very direct, very headstrong - like me.
"And he had a sense of doing something for the greater good. He wasn't driven by money or possessions - he was quite happy to live the life that he lived.
"Which was, let's be honest, most people would find living in Syria for three years, tough - no electricity, living in burnt-out villages, not being able to wash and shower every day.
"This was the boy who liked a nice bed, and a nice pillow. When he first went there I thought he would probably last about six weeks ... and he will want to come home.
"But he stuck it, and he loved it.
"I think it made him, he learnt the language - he spoke fluent Kurdish - he integrated very well and had so much respect from the commanders and his peers."
More than 150 people are expected to go along to Poole Crematorium, on Gravel Hill in Broadstone, for the service starting at 1pm.
(Picture: Jac Holmes / Facebook)