Bournemouth: New Service To Speed Up A&E Access
5 February 2015, 10:59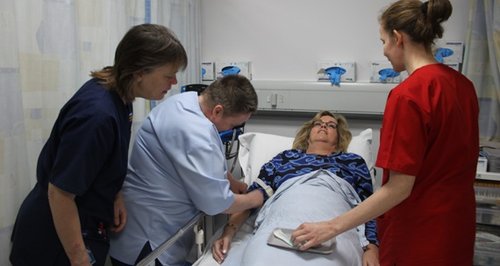 The Royal Bournemouth Hospital says it's happy a trial to get people seen at A&E quicker has been successful.
BREATH - 'Bournemouth Rapid Evaluation Assessment Treatment Hub' - sees patients who arrive by ambulance transferred straight into a 'hub' where a dedicated senior doctor directs a team of nurses in heart monitoring and taking necessary blood samples or x-rays. This allows Emergency Department (ED) staff to design a plan of action for a patient's urgent care within 20 minutes of their arrival. Patients who need resuscitation are still seen immediately by the emergency resuscitation team.
After visiting the BREATH hub, patients are streamed to the most appropriate service for them, including the majors, minors and outpatients departments, or to ambulatory care.
The BREATH pilot has been successful in helping the hospital Trust manage the increase in demand for emergency services in the past few weeks and has now been extended for further testing and refinement.
Alex Lister, Directorate Manager for Medicine and the Emergency Department, said:
"Our teams have been working incredibly hard to provide high quality patient care despite the national increased demand for emergency services.
"It is thanks to their flexibility and determination that the BREATH hub has worked well for our patients. We are very pleased the scheme is proving successful and will continue to explore different ways of working so that our patients always receive the best possible care."