Bournemouth: Pensioner's Appeal To Find Hit And Run Driver
7 April 2015, 17:13 | Updated: 7 April 2015, 17:21
A pensioner who was seriously injured in a hit and run in Bournemouth has appealed for help to find the driver who knocked her over.
It happened at around 3.30pm on Monday 19 January 2015.

79-year-old Jean Flicos from Bournemouth was crossing Withermoor Road at the junction of Wimborne Road when a vehicle, believed to be a silver Vauxhall Astra, turned right from Wimborne Road onto Withermoor Road and struck her.

The female driver of the vehicle initially stopped and spoke to witnesses at the scene and she said she was going to park her car up and then return. She then drove off and did not return to the scene - leaving the injured victim lying in the middle of the road.

As a result of the collision Mrs Flicos, who was on her way to buy a wedding anniversary card for her husband for the following day, sustained serious injuries, including a fractured knee.

Mrs Flicos said:

"I have had my leg in full plaster for about five weeks and will also have to have my leg in a brace for a further twelve weeks.

"Since the collision I can't do things for myself. I haven't been able to leave the house and it's only in the last two weeks that I've been able to go outside.

"It was my 80th Birthday last weekend and I never envisaged spending it inside my house. I would have liked to have been out celebrating.

"I do worry about my future mobility and how things will be and it scares me."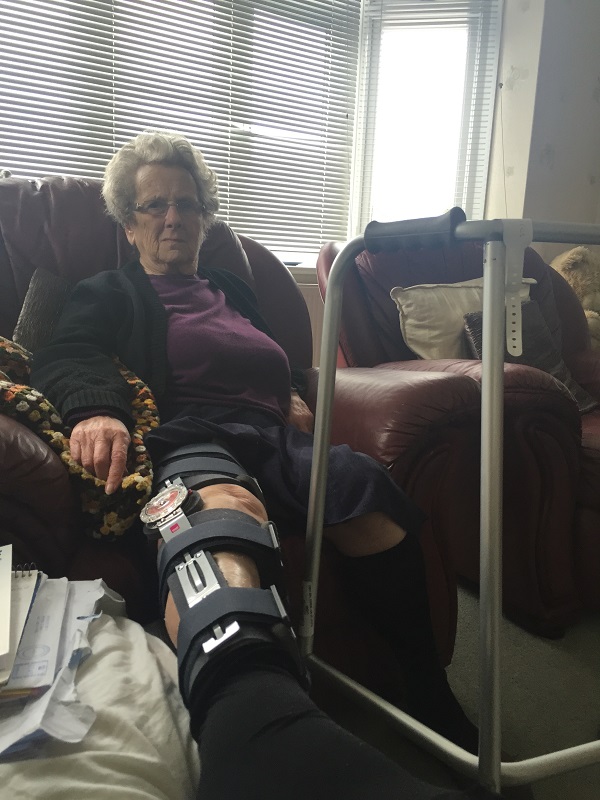 The driver of the vehicle was described as a white woman, aged between 20 and 30, approximately five feet seven inches tall, of slim build and with shoulder length dyed red hair. She was wearing casual clothes including a short skirt.

She also had a large tattoo all the way up her leg.

Police Constable Charlie Burt, of Bournemouth police, said:

"Despite previous appeals, the driver involved in this serious injury collision has failed to come forward to help with the investigation.

"I urge this driver, or anyone who recognises the description of her or the associated vehicle, to come forward.

"It is likely that the offender has confided in other people and I am appealing to them to come forward with a name or information to provide peace to Mrs Flicos.

"I am also keen to speak to any witnesses to the collision who haven't already been spoken to.

"We are asking local premises to please check their CCTV to see if they have captured the collision."

Witnesses and anyone with information should call Dorset Police in confidence on 101.