Bournemouth Wheels Festival Returns
29 May 2015, 07:56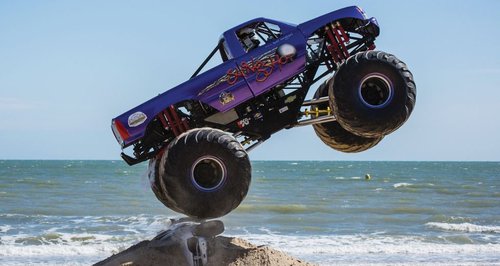 More than half a million people are expected on Bournemouth seafront this weekend for the returning Wheels Festival.
The free event debuted last year, attracting 500,000 people over three days - as a land-based complement to the internationally-renowned and award-winning Bournemouth Air Festival.

The Wheels Festival offers local residents and visitors the chance to see a huge selection of beautiful historic and classic motors, military vehicles and high-end supercars from the past and present. There is also a packed programme of breathtaking stunts and displays featuring daredevil motocross, BMX and skateboard teams, as well as F1 and precision drivers.

Owing to its popularity at last year's festival, this year's monster truck arena has doubled in size meaning there are even more chances for fans to watch car crushing and power demonstrations, and to take a ride in these impressive family favourites.

Festival-goers will also find lots to do down by the water's edge, to include a selection of seafront stalls, a funfair and a live music stage.

Taking place between Bournemouth's two historic piers and spanning a 1.5 mile stretch of stunning coastline, the Wheels Festival is split into six zones with designated military, desert driving and stunt arenas as well as a cliff-top demonstration straight.

New for this year is a pop-up arena on the East Overcliff demonstration straight where wannabe thrill-seekers can watch adrenalin-fuelled quadbike, freewheel and precision driving stunt shows.

Councillor Lawrence Williams, Portfolio Holder for Tourism, said:
"The Wheels Festival is much more than just a motor event owing to the sheer number and variety of vehicles on display and attractions on offer. There is so much going on that it will take more than a day to see everything - we've planned it that way so that residents and visitors to Bournemouth have the best possible experience of the town."

Also back by popular demand and into its third year, children and families will be able to take part in the Big Community Bike Night Glow along East Overcliff Drive on Friday 29 May. Cyclists are encouraged to decorate themselves and their bikes with as many brightly coloured or glow-in-the-dark accessories as possible to join in the leisurely, night-time ride.

Mark Smith, Director of Tourism said:
"Wheels is a unique and dynamic festival, making it a big draw for families from all over the UK. It's a great way to start the season and we want residents to enjoy and take pride in this thrilling event. Bournemouth is a great place to live and it's free events like this that set it apart from other seaside destinations."

Bournemouth Wheels Festival is free to view with a variety of paid-for activities available, including grandstand seating for the best views of the monster truck car-crushing and power demonstrations.

Event organisers will also be running a regular shuttle bus service from Hot Rocks on Bournemouth seafront to Boscombe Pier so that festival-goers can move around the site for a small fee and make the most of everything on offer.

For more details of what's on, opening times and other event information, visit bournemouthwheels.co.uk.