CCTV Of Poole Knifepoint Robber Released
23 July 2015, 10:09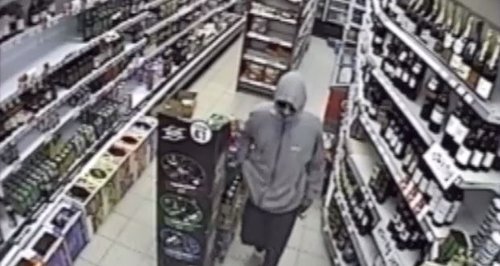 Detectives have made a fresh appeal for help to track down a man behind four knifepoint robberies in Poole.
The first offence happened at around 10.35pm on Sunday 12 July 2015 when a man came into Jas News & Booze on Poole Road with a hood over his face and sunglasses on. He picked up milk, went to the counter, pulled out a knife and demanded money before leaving the store with a quantity of cash.

A second offence occurred at 9.05pm on Monday 13 July 2015 at the Shell Service Station on Bournemouth Road. A man entered the garage, brandished a knife and demanded money but none was handed over and he left on foot.
A third incident happened at Tatnam off-licence on Tatnam Cresent at around 9.40pm on Monday 13 July 2015. A man came into the store, showed a knife and demanded the till was emptied. An alarm was set off and the offender ran off without any money.

The fourth offence occurred at around 11.20pm on the same evening in the car park at The Adam Practice, Longfleet Road. A taxi driver had just dropped off a client, before he was approached by a man and threatened with a knife. The suspect made off with a quantity of cash.

Nobody was physically injured during any of the robberies.

Detective Constable Steph Ashworth, of Poole and Bournemouth CID, said:
"I am now able to release CCTV footage of the suspect for all four incidents.

"I am appealing to any witnesses, or people who recognise the man, to contact me urgently on 101."

The offender is described as white, of slim build, around five feet seven inches tall and around 25 years of age. He was wearing a light grey hooded jacket and dark sunglasses.
Witnesses and anyone with information should call Dorset Police in confidence on 101 quoting incident number 13:474. Alternatively, call the free and anonymous Crimestoppers line on 0800 555 111 where mobile phone tariffs may apply.