CCTV Released Of Poole Armed Robbery Suspects
9 July 2015, 09:38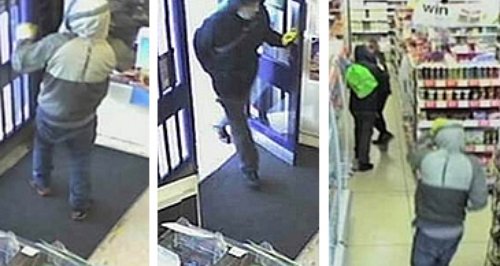 Police still investigating the armed robbery of a newsagent in Poole in May have released CCTV of the two suspects.
Cash and around £12,500 worth of cigarettes were stolen at around 7.16am on Sunday 24 May 2015, at McColls convenience store on Alder Road.

Two men entered the store and threatened staff with a knife before taking the cash and cigarettes.

No one was injured.

One of the offenders is described as white, in their late 20s to early 30s, around five feet five inches tall and of skinny to medium build. He had a deep voice and was wearing a plain dark blue jacket and carried a bright green bag.

The second offender is described as white, in their late 20s to early 30s, and around five feet ten inches tall and of medium build. He was wearing a distinctive white, grey and black hooded jacket and blue jeans.

Both men were wearing yellow rubber gloves.

Detective Constable Adrian Turner, of Bournemouth CID, said:
"I am now in a position to release CCTV images of the two suspects.

"Both men had their faces covered, however I believe someone may be able to identify either man by the clothes they were wearing or from their build or stance.

"Anyone with information should contact me, in confidence, on 101."

Witnesses and anyone with information should call Dorset Police in confidence on 101 quoting incident number 24:94. Alternatively, call the free and anonymous Crimestoppers line on 0800 555 111 where mobile phone tariffs may apply.