Teenagers Quizzed Over Christchurch Heath Arson
2 April 2015, 13:20 | Updated: 2 April 2015, 13:23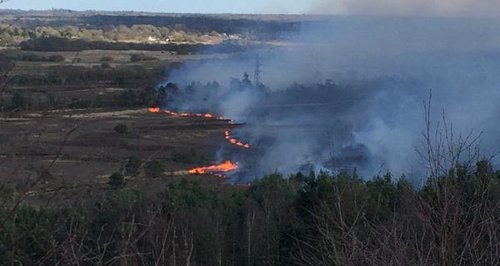 Police investigating an arson attack, which destroyed a large area of heathland near Christchurch, are questioning two teenage boys.
Around 72 hectares of heathland - equivalent to the size of about 100 football pitches - was damaged in the blaze at St Catherine's Hill that started at around 12.50pm on Tuesday 31 March.

It is believed three separate fires were deliberately started in quick succession, one at land near to the Avon Causeway known locally as town common, a second at St Catherine's Hill near to the water towers and a third near to Woodbury Close.

Dorset Police offered assistance to Dorset Fire & Rescue Service to ensure the public remained at a safe distance while the fire was tackled.
At the fire's height, around 80 firefighters from Dorset and Hampshire were tackling the flames - which were being fanned by high winds. It took more than five hours for the fire to be brought under control.
Fire crews remained at the scene over Wednesday night to damp down and make sure no hotspots reignited.
Police Sergeant Alex Smith, of Christchurch Police, said:
"As a result of information given from the local community and subsequent police investigations two local teenage boys, aged 14 and 15 years, are currently helping officers with their enquiries.

"Police would like to thank Dorset Fire and Rescue and members of the public for their assistance with this incident.

"Enquires are still ongoing and I would still like to hear from anyone who saw any suspicious behaviour in the area of St Catherine's Hill and the Town Common around the time of the fire."
No arrests have been made.

Witnesses and anyone with information should call Dorset Police in confidence on 101 quoting incident number 31:217. Alternatively, call the free and anonymous Crimestoppers line on 0800 555 111 where mobile phone tariffs may apply.