Condor Boss 'Sorry' For New Poole Ferry's Problems
16 April 2015, 07:15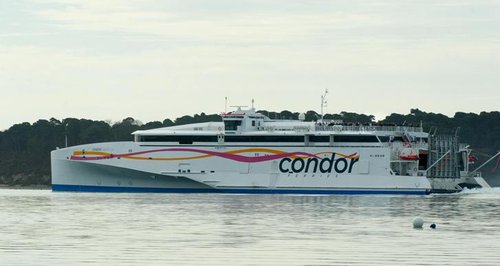 The boss of Condor Ferries has said sorry for all the disruption caused by problems with its brand new ferry.
The £50 million Condor Liberation was damaged in Guernsey on just its second day sailing between Poole and the Channel Islands last month - then suffered engine trouble which meant it had to run at reduced speed.
Fast ferry Condor Liberation was described as the first of her kind in Northern Europe with the 'trimaran (three hull) design offering greater stability and better sea-keeping abilities, providing a smoother ride for passengers.'
Condor's Executive Chairman Russell Kew, in an open letter to customers, said:
'I am sharing this letter with every customer who has written to us regarding their experience of travelling with us over the last couple of weeks, as well as many others who have been affected by, or aware of, the very disappointing start we have had with Condor Liberation.
'The most important thing I can say is sorry; sorry to those customers who were delayed, diverted and had journeys disrupted, and sorry to their families, friends and colleagues who also experienced inconvenience and disappointment; sorry that many of you felt you didn't get the right information at the right time, and of course, sorry to all our customers who were so looking forward to sailing on Condor Liberation, and haven't yet had the opportunity to do so.
'Let me explain what has happened.
'At the end of last year, around 50 Condor crew and engineers were involved in sailing Condor Liberation to Poole from the Philippines. Our £50m investment in our new state-of-the-art ferry was the result of months of due diligence and independent reports as well as detailed discussions with the States of Jersey and Guernsey, all of which led us to conclude that this ship is the right way to provide a modern high speed ferry service for our Islands. The 10,500 mile journey gave them the chance to become familiar with the ship and to ensure it was operating well. Liberation then spent three months being customised before coming into service on Friday 27 March.
'However, despite our extensive preparations and sea trials, the following afternoon when Condor Liberation was berthing in St Peter Port in strong winds, she landed heavily against the fendering, causing minor damage to her protective belting. We are still working with Guernsey Harbour Master to investigate the cause(s) of this incident. We are also reviewing what went wrong with our customer service in Guernsey that day; we know that we let many customers down with long waits, poor and conflicting information, and a great deal of inconvenience.
'We had already had to cancel the fast ferry sailings for the following day due to forecast bad weather, and even before Liberation arrived in Poole that evening to have the damage assessed, the forecast for Monday 30th and Tuesday 31st March deteriorated, so we had to make further weather cancellations. It's worth mentioning that, although we do expect that heavy weather trials later this year will enable us to operate Condor Liberation in heavier seas than those allowed for our old 86m ferries, for now she operates under the standard limitations for fast ferries in UK waters.
'With Easter on the way, we worked quickly to develop enhanced contingency plans and, following approval by Ministers in both Islands, we:
- brought in charter ship MV Arrow to support freight services
- focused Commodore Clipper on providing a passenger service whilst poor weather (and then extended repairs) saw Condor Liberation out of service
- operated fast ferry services with Condor Express between Poole and the Islands on Good Friday and Easter Saturday (in Condor Liberation's timeslots)
'Our engineers got to work on the repairs as soon as possible, taking a thorough and cautious approach, but strong winds and heavy rain slowed us down and it took several more days than we hoped and Condor Liberation returned to service on Easter Sunday.
'It was unimaginable bad fortune that Condor Liberation then developed an electrical fault the next day. Working with the manufacturers, we believe we have managed to isolate this fault and have replaced the faulty component, along with several others, as a precautionary measure. However, in the meantime, Condor Liberation was sailing more slowly than scheduled and we had to retime and adjust our schedule, causing further disruption. When, having been initially repaired, this fault reoccurred two days later, we had already set sail from Poole, and we had to adjust our timetable mid-journey in order to meet the tides. I realise that it would be easier if, in situations like these we could simply publish a standard contingency, however balancing differing numbers of travellers from our four ports, freight priorities and tidal restrictions means than every day involves an individual plan.
'No-one is more disappointed than us that the first two weeks of Condor Liberation¡¦s time with us has been affected by the combination of the berthing incident, bad weather and the electrical fault.
'I know that the inconvenience which many of our customers have suffered has been compounded by frustration at a lack of timely information from us at some critical times. I hope you have seen us improve, even in the last few days, but it is clear that we can do better; and we will. We'd be grateful if you could help us to help you by making sure that you give us an up to date mobile phone number when you book, as we use text messages to tell customers about any changes to their journey. Our call centre has managed over 8,000 calls over the last two weeks, with an average wait time of 4 minutes, but I know that many customers have had to wait for longer than this, and I offer them my sincere apologies. We are looking into how we can build more resource in this area.
'Although we are taking longer than our usual 72 hours to respond to complaints, I would like to reassure you that we will, as always, scrupulously honour our obligations under the EU Passenger Directive across all our routes regardless of whether you live in the EU or the Channel Islands. You can find details of how to make a claim for compensation here.
'Finally, I'd like to take this opportunity to pay tribute to the entire staff at Condor who have worked so hard to get our customers to where they need to be, as well as to maintain a seamless freight service, which, despite bad weather sometimes affecting freight sailing times, meant that we offered an uninterrupted supply chain over the important Easter period. Many of you have been kind enough to express your appreciation for the efforts we have made and for the way our staff have looked after customers. Those compliments have meant a lot to a team which had already been flat out getting Condor Liberation ready for service.
'It is clearly taking some time for us to settle Condor Liberation into service and, looking ahead, I can't promise that the weather will always be calm, or that there won¡¦t be any technical issues. However, I can promise that we will always work tirelessly to keep our Islands connected and supplied, and to do our very best to look after you, our valued customers.
'We have served our Islands with pride for over 50 years. Although the last two weeks have been difficult, we will learn from them and then hope to put them behind us, so that we can welcome you on board again very soon.'