Dippy The Dinosaur Unveiled In Dorset
9 February 2018, 13:20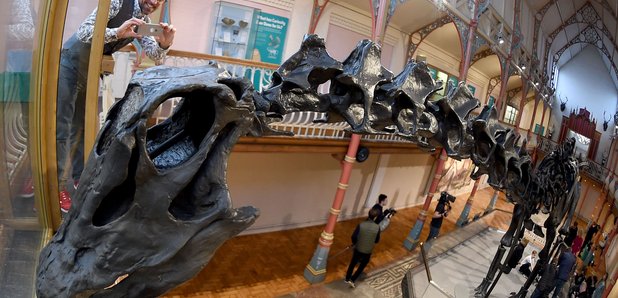 The Natural History Museum's famous dinosaur skeleton Dippy has been unveiled in Dorset - ready to start his UK tour.
The huge diplodocus replica will go around the country over the next three years, first opening to the public at Dorchester's Dorset County Museum on Saturday 8 February.
The Museum says visitors need to get a free timed ticket online, because of the huge demand to see Dippy.
11-year-old Harry Swift got to place the very last piece of the gigantic jigsaw. Harry, who attends Fair Oak Junior School in Eastleigh, was drawn at random from hundreds of entries to help assist the reconstruction.
The 70-foot long centrepiece had been on display since 1905 in the Natural History Museum in London, most recently in the Hintze Hall in the museum's entrance from 1979 to 2017. It has not before been publicly displayed outside the museum.
The skeleton is a cast made in the early 1900s from an original in Pennsylvania, USA. It is an example of the Diplodocus carnegii species, which lived between 145 and 156 million years ago. The species is named after Andrew Carnegie, a 19th-century industrialist and philanthropist who donated the cast to the Natural History Museum.
In its displayed pose, the skeleton - nicknamed Dippy - is more than 20m long, 4.3m wide and 4.17m high. It took three weeks to dismantle the 292 bones, which are made of resin and plaster of Paris.
In place of the dinosaur, a blue whale skeleton is now displayed in the Hintze Hall.
The three-year tour begins at the Dorset County Museum in Dorchester, Dorset, on the Jurassic Coast, famed for its fossils. It's taken a large team more than a week to put Dippy back together!
Director Dr. Jon Murden said:
"We are so excited to be welcoming Dippy on Tour to the South West and thrilled to be the first host venue on his National UK tour. This is the first time that anybody has had the chance to see Dippy outside of London and it appears that parents and grandparents in particular are making the most of this once in a lifetime opportunity."
"With the Jurassic Coast, the birthplace of palaeontology just a few miles away I would encourage everyone to extend their visit and make it a day of memories that will last a lifetime" says Director of Dorset County Museum, Dr. Jon Murden.
"Tickets to visit Dippy are being booked up fast, so we are encouraging everyone who hasn't done so already, to reserve their tickets soon to avoid missing out."
Ticketing is FREE but to control the crowds and to ensure visitors get up close and personal to Dippy, tickets are being allocated specific timed slots. Please visit dorsetcountymuseum.org/dippyontour to reserve your slot.
Dippy will then be shown at museums and cathedrals in Birmingham, Belfast, Glasgow, Newcastle upon Tyne, Cardiff, Rochdale and Norwich.
An estimated five million people will see the skeleton on its tour.