Dorset Crews Tackle Series Of Fires
24 July 2018, 09:07 | Updated: 24 July 2018, 11:09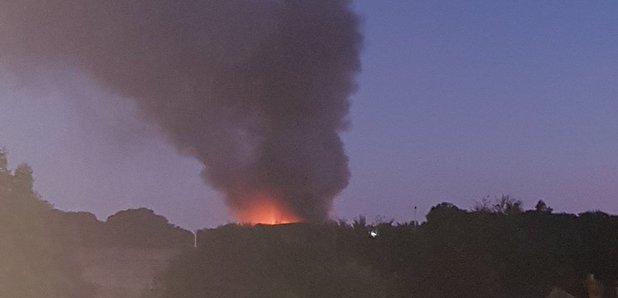 Firefighters in Dorset have had to deal with several big fires - as the hot, dry weather continues.
Crews were called to 'an extremely large fire' at a recycling centre at Canford Park in Poole last night, with smoke and flames seen from miles around.
A warning has been issued to people in the Poole and Bournemouth areas that they could be affected by smoke still rising from the fire. Crews were called to the Canford Recycling Centre at Arena Way at 9.42pm and found a large single storey building used for storing waste well alight. At the height of the blaze ten fire engines, three water carriers and other support appliances were in attendance.
Area Manager Craig Baker said:
"Although the fire is now under control, and we have scaled back our attendance, it is likely to be a couple of days before it has burnt out completely. There is still a lot of smoke rising from the site so local residents may want to keep doors and windows closed, especially if they have a pre-existing respiratory condition."
(Pic: @Jake_afcb)
Yesterday afternoon, eight fire crews were called to Weymouth household waste recycling centre in Lodmoor Way, where around four hectares of waste ground and reed beds were alight. The police helicopter attended at scene and assisted crews greatly by identifying how the fire was spreading and where to focus firefighting actions.
A grass fire near Bournemouth Airport's runway had also earlier caused a flight from Poland to be diverted to Bristol. It broke out on grass near the runway yesterday, but firefighters from the airport and nearby Christchurch got it out quickly.
@BournemouthFire tweeted: 'Grass fire on the north side of the airfield. Crews were in attendance very quickly and have brought the fire under control.
'We apologise for any interruption in flight services that this may have caused.'
Firefighters also think a grass fire off the A31 at Wimborne yesterday evening was started deliberately.
Wimborne Fire Station said:
'Two pumps from Wimborne were mobilised to a report of a grass verge on fire off the A31 at Wimborne Minster. The grass fire measuring approximately 40m x 20m was extinguished using Land Rover pumps, beaters and water knapsacks.
'It is believed to have been started deliberately, we urge anyone and everyone to think twice about starting fires, having bonfires and being extremely careful when discarding cigarettes you are causing horrific damage to to wildlife, putting the public and our firefighters at risk.'
Dorset Police said:
'We received a report at 7.36pm yesterday, Monday 23 July 2018, from the fire service of a grass fire by the A31 near Canford Magna that was believed to have been started deliberately.
'Enquiries are ongoing into the incident. No arrests have been made at this stage.'
(Top pic: @l_kgraham)