Dorset Drug Gang Jailed
5 September 2018, 15:17 | Updated: 5 September 2018, 15:21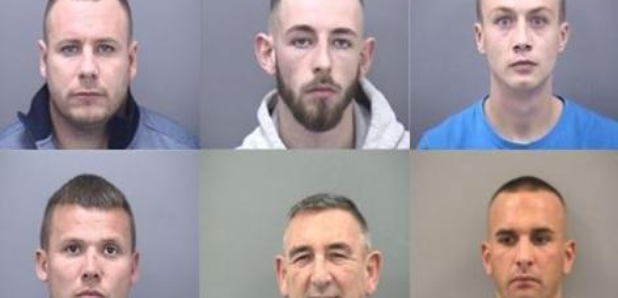 Five men from Bournemouth and Poole who planned to supply cocaine and cannabis across Dorset have been jailed for more than 32 years between them.
Aaron Keith Arthur Robinson, 28, of Brazier Close, Bournemouth, was sentenced at Bournemouth Crown Court on Friday 31 August 2018 after admitting offences of conspiring to supply class A drugs and blackmail.
James Martin Bruce-Joy, 28, of Mossley Avenue, Poole, and William Parkes, 61, of Seaborne Place also appeared to be sentenced for conspiring to supply class A and class B drugs with Parkes also charged with money laundering.
Michael Alexander Scott, 29, of Albert Road, Poole, Jordan Lee Cook, 21, of Robert Louis Stevenson Avenue, Bournemouth, and Jonathan Lee Mills, 31, of Ashley Road, Bournemouth, were sentenced for conspiring to supply class A drugs. Cook also admitted an offence of possessing a class A drug with intent to supply.
Five of the defendants received an immediate prison sentence. Robinson was sentenced to 10 years, Parkes received a sentence of six years and nine months, Bruce-Joy five years and nine months, Scott received a sentence of five years and six months and Mills four years and three months.
Cook was sentenced to two years in prison, suspended for two years.
Dorset Police's Serious Organised Crime Investigation Team launched an operation in March 2016 into a group that was suspected of supplying large quantities of class A and class B drugs across the county.
The investigation team identified Robinson leading a large network of associates to supply significant amounts of controlled drugs, with Scott, Bruce-Joy and other close associates being at the centre of an organised crime enterprise controlling a number of other individuals to orchestrate the distribution of high purity cocaine and cannabis between January 2016 and January 2017.
Robinson was found to be using a vast number of different mobile phone numbers to direct proceedings with a hands off approach. The investigation revealed 47 different mobile numbers that were attributed to Robinson.
The police investigation identified Bruce-Joy and Cook as being among the associates directly operating on behalf of Robinson, along with Parkes, Scott and Mills, to control safe houses to store the drugs.
The operation consisted of surveillance, arrests and searches, CCTV and financial evidence to build a lengthy and complex conspiracy case against the convicted defendants.
Analysis of phone records revealed text messages indicating drug dealing was taking place throughout the 12-month operation and warrants were carried out at various addresses linked to the defendants and their associates.
During the course of the operation just under four kilograms of high purity cocaine was recovered along with more than three kilograms of cannabis. Additionally, dealer lists seized during the operation from the organised crime group showed significant sums of money totalling just over £600,000.
The total value of drugs seized during the operation has been estimated at between £131,732 and £165,172 if sold in bulk amounts, between £234,752 and £285,732 if sold in individual deals and up to £403,532 if bulked out with other substances. The amounts of drugs recovered along with the dealer lists seized indicated that the organised crime gang was responsible for hundreds of thousands of pounds worth of drugs being distributed throughout the county. A total of £25,769 in cash was also seized.
Detective Sergeant Ian Johnson, of the Serious Organised Crime Team, said:
"These sentences follow an extensive operation by Dorset Police to disrupt a major drug supply network in the county.
"We are committed to tackling drug gangs operating in Dorset and will continue to do all we can to investigate those involved and bring them to justice, as well as protect vulnerable people who are often coerced into involvement.
"We rely on information sharing with neighbouring police forces and the Regional Organised Crime Unit and are also indebted to members of the public supplying information to help build an intelligence picture and identify those operating in our communities."