Dorset Police In Christmas Sex Offence Warning
17 December 2014, 07:13 | Updated: 17 December 2014, 07:30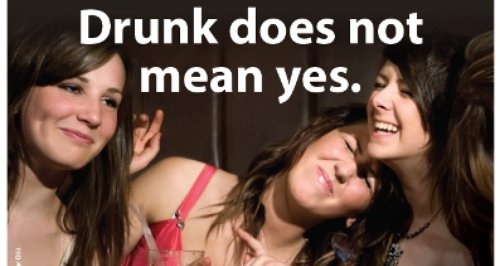 Bournemouth Council have joined Dorset Police in a new sexual violence poster campaign - warning 'no' means no this Christmas.
It is aimed both at encouraging victims to come forward, and warning potential offenders, particularly people out drinking during festive celebrations.
Sexual violence is any unwanted sexual contact or harassment. It includes pressurising someone to have sex or take part in sexual activity such as groping and sexual touching when they don't want to or they haven't, or can't give their consent.

Physical violence, sexual violence, stalking, controlling or manipulative behaviour and harassment are all forms of relationship abuse.

Detective Chief Inspector, Jez Noyce, Force lead for Serious Crime Investigations, said:
"Sex with someone who doesn't want to is rape. It does not make a difference whether the people know each other or not, or what relationship they have. Just because you are in a relationship with someone, it doesn't make it ok.

"Rape does not have to involve physical force – threatening violence, or having sex with someone who is incapable of consenting because they're drunk or asleep is rape.

"When out celebrating this festive season, please ensure that you take care of yourself.

"Unfortunately we know that there are individuals who will take advantage of people who become intoxicated and vulnerable.

"While I am not saying that victims are responsible for what happens to them, it is important that people who go out drinking make sure they don't become vulnerable and put themselves at added risk."

A prison sentence isn't the only punishment for sexual violence. Offenders may also lose their partner; access to their children; the respect of friends and family; be banned from their home; lose their job; get a criminal record; and it could even affect any future relationships under the Clare's Law disclosure scheme.

Bournemouth Borough Council's Portfolio holder for Public Health, Councillor Jane Kelly welcomed the campaign. She said:
"Victims are frequently judged that they have invited a sexual attack because of their dress or the amount of alcohol they have consumed. Rape and sexual assault happens in many different settings including domestic homes and night time economy related.
"This campaign sends out the stark but simple message that sex without consent is rape. Saying no means no."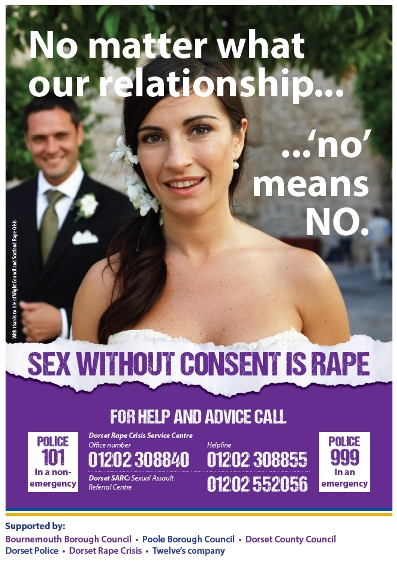 Detective Chief Inspector Jez Noyce continued:
"Sexual violence will not be tolerated in Dorset. It is always the perpetrator's choice to abuse. It is never the victim's choice to be abused.

"You should never have to do something sexual that you don't feel comfortable with, even if many of your friends are comfortable with similar situations or if you've done it before. Being in a relationship with someone does not make it ok for them to force you to do something you don't want to do.

"Abuse in relationships and sexual violence are not normal or acceptable – if you are in an abusive relationship or have been sexually assaulted or raped it's never your fault and you don't have to put up with it.

"You don't have to suffer in silence. Sexual violence can be stopped if you seek support."

Dorset Police has specially trained officers to investigate sexual violence and support victims. Call 101 (non-emergencies only, call 999 in an emergency). All reports will be dealt with in confidence.

For further information and support:

Dorset Sexual Assault Referral Centre (SARC) - Expert team providing high quality care to men, women, children and young people who have been affected by rape and serious sexual assault.
Telephone: 01202 552056 or 0845 519 8638
Email: dorsetsarc@twelvescompany.co.uk

For perpetrators - advice about changing behaviour, call the Respect helpline on: 0845 122 8609.

For a list of local and national organisations that can help you, visit: www.dorsetforyou.com/dvahelp.

For young people experiencing abuse visit: www.thisisabuse.direct.gov.uk for advice and support.