Bournemouth: Meeting Over A338 Roadworks Delays
10 September 2015, 10:21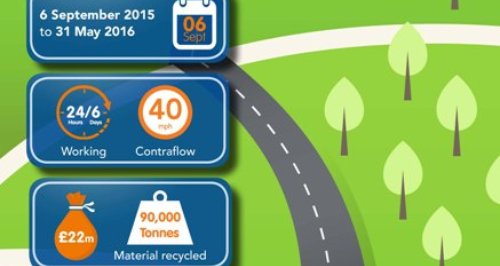 Council bosses have held a meeting to discuss the long delays caused by the roadworks on the A338 in and out of Bournemouth.
The A338 Spur Road has had lane closures and speed restrictions from Monday morning (7 September), for long-needed work to completely rebuild the 40-year-old road and widen lanes. The work is due to finish at the end of May.
It's led to big delays on the road and diversion routes, and waits of up to two hours for people trying to leave the Royal Bournemouth Hospital's car park.
Drivers are now being told the turn-off for the Royal Bournemouth, from Castle Lane East, is for hospital access only.

New signs are being put up after Dorset County Council bosses met with the hospital, police and highways authorities yesterday about it.

Councillor Peter Finney, Cabinet member for Environment, said:
"We've identified that more drivers than anticipated have diverted onto Castle Lane East and this is causing the increased problems at the hospital and Cooper Dean Roundabout. There are also issues with some drivers blocking the roundabout, abusing the left hand filter and using the roundabout as a shortcut.

"We'll be working with Bournemouth Borough Council to use their variable message signs to pre-warn drivers of the congestion on Castle Lane East, and to remind drivers about the appropriate use of the filter lanes there will be new signage designating the hospital lane as access to Hospital and Deansleigh Road only.

"Dorset Police has also agreed to monitor traffic and assist where possible."
Work will move anti-clockwise around the Bournemouth Spur Road between Ashley Heath Roundabout and Blackwater Junction, with the reconstruction starting on the main southbound stretch of road.

From the 21 September until Christmas, the southbound carriageway will be reconstructed between Blackwater Junction and the QinetiQ access, with a 40mph contraflow on the northbound carriageway.

In the New Year work will focus on the northern end of the scheme, with the reconstruction of the roughly one-mile stretch between Ashley Heath Roundabout and the QinetiQ entrance.
Work will start on the southbound side, with traffic remaining in the northbound contraflow, and then the works area and contraflow will swap sides – with traffic switching over to the newly built southern carriageway to allow the northbound one-mile section to be reconstructed.

There will also be speed restrictions on the A31 in this area during this phase of work.

From March until the end of May, the northbound carriageway will be reconstructed with the contraflow traffic on the newly built southbound side.

Throughout the work there may be times where additional overnight closures are required for surfacing work and to rearrange traffic management.

For more information about the scheme visit www.dorsetforyou.com/bournemouth-spur-road.