Inclusion Celebrated At Bournemouth Pride
12 July 2019, 09:12 | Updated: 12 July 2019, 09:22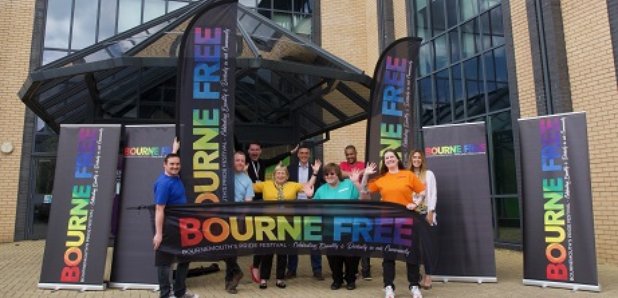 Bournemouth's Pride celebration is back over the next three days, with this year's theme 'Paint the world with Pride'.
There's a family fun night, parade and performances from singers and drag queens.
Thousands of people are expected.
The Bourne Free website says:
'Bourne Free is an annual celebration of all diversities that live in Bournemouth and surrounding areas and the constant strive towards universal equality for all through entertainment and awareness.
'Bourne Free was originally set up in 2004 when a far right organisation was due to come to Bournemouth and preach that homosexuality was wrong. Many prominent figures and active members of the gay communities in the area came together to organise an event in the Lower Gardens to protect the gay communities from the bigots and keep them together for a day of celebration, rather than of hostility.'
Bournemouth University's among the headline sponsors, with a stand in Bournemouth Gardens and a float in the parade, alongside AFC Bournemouth Proud Cherries. Ian Jones, Bourne Free Trustee and Head of Regional Community Partnerships at Bournemouth University, said:
"We're proud to be an active part of our community, and our sponsorship of Bourne Free is another way that we can partner together to bring people together to celebrate the diversity of Bournemouth and Poole. We'll be there during the Festival, so come and say hi, and look out for our float in the parade, along with our partners AFC Bournemouth Proud Cherries."
Local employer Ageas Insurance partners Bourne Free. The partnership followed a suggestion from employees at their Bournemouth site who had been volunteered at Bourne Free before. They were looking for ways to spread the message of inclusion and diversity throughout the wider community and suggested that Ageas sponsor the celebrations.
Ageas employee Ashley Mann said: "Our partnership with Bourne Free 2019 is completely organic and has grown from a small group of current employees who feel that Ageas should share its diversity ethos. What better way to do that than at one of the biggest events in Bournemouth. I am proud that we can give the LGBT community trust in us as a safe and supportive employer."
Lyn Nicholls, HR Director, Ageas Insurance said:
"We're really proud of being a diverse, progressive and inclusive organisation that offers opportunities regardless of the sexual orientation, gender, race, religion or physical ability of the person. We're excited to be leading this year's parade in our decorated double decker bus and look forward to seeing you there."