Kayakers Rescued From Windy Poole Bay
13 April 2015, 07:22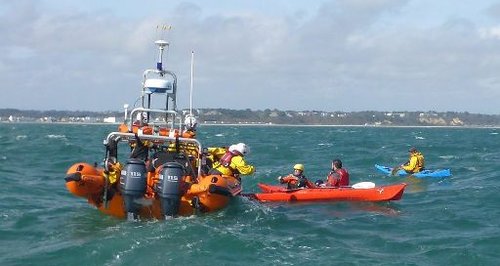 Six kayakers have been rescued by Poole lifeboat crews after getting in trouble in windy conditions.
Volunteers from Poole Lifeboat station launched on Sunday (11 April) to Poole Bay to work alongside the Rescue helicopter 104 when Solent Coastguard received a request for assistance from a group of kayakers off Old Harry Rocks.

Conditions out in the bay were blustery, a strong fresh South Westerly wind up to force 6, around 25 knots, hampered the kayakers' progress, the group of four plus an instructor, had ventured out from Knoll Beach earlier.
They found themselves struggling against the conditions and had drifted out into the swell off Old Harry, making no headway. A Kayak instructor from another group in the locality alerted the Coastguard to their predicament.

Meanwhile, the Lifeboats were about to embark on their exercise with the helicopter, when Solent Coastguard tasked the helicopter to locate the casualties, as it was in the vicinity and could register a visual. The helicopter crew gave the Coastguards the position of the kayakers, they then departed the scene as they were deployed to another incident further along the coast. So, Solent Coast guard tasked the all-weather lifeboat to attend, they were one mile east of Bournemouth Pier.

The lifeboat crew found the group off 'Hook Sands', initially the group was four plus one instructor, but when the lifeboat arrived on scene, they found a group of six. One instructor had two kayaks under tow and another instructor had come to help from another Kayak group that had been in the area, the second instructor had also taken two kayaks under tow.

The lifeboat crew recovered the kayaks and five casualties safely on board, the lifeboat checked that everyone was okay and then took them back to Knoll beach.

The sixth kayaker, had begun to make his own way back to Knoll beach, as the conditions had not improved, the inshore lifeboat was standing by keeping an eye out, it was apparent that he was making little progress in the testing conditions, so the crew took him and his kayak on board and brought him back to Knoll Beach.


With everyone accounted for and landed safely ashore, both lifeboats returned back to station, ready for service at 5pm.

Volunteer Helmsman James Kilburn said:
"With the strong offshore wind as soon as they were outside the shelter of Studland Bay it would have been extremely difficult to paddle back to shore."