Large Poole Heath Fire Thought To Be Arson
17 April 2015, 09:34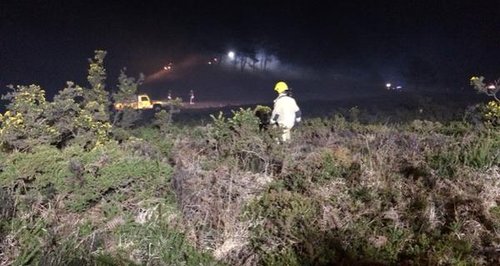 About 70 firefighters have tackled a large heath fire in Poole overnight - thought to have been started deliberately.
Approximately a 2 hectare area went up in flames on Canford Heath just after 12am today (Friday 17 April).
Ten crews and eight off-road vehicles were sent to the scene. Crews got the flames under control just after 2am.
A Dorset Fire and Rescue Service spokesperson said:
"Soon after midnight today, the Service received the first of 24 calls reporting a fire on Canford Heath.

"Initially one crew from Poole fire station attended and found an area of heath alight and requested 3 further fire engines and 3 pumping landrovers to provide water and access.
"Shortly after this, another 2 landrovers and 7 fire engines were requested to deal with the blaze. At the height of the incident there were approximately 70 firefighters on scene and the fire was under control 2 hours after it started, at 2.11am.
"The incident has now been scaled down to 1 pump and the crew are damping down hotspots on the heath.
"The fire has damaged approximately 2 hectares of heath and it is thought that it was started deliberately."
Dorset Police say they are investigating.
(Pictures: Dorset Fire and Rescue)