Mum Thanks Bournemouth PCSO Who Saved Choking Daughter
22 July 2015, 07:42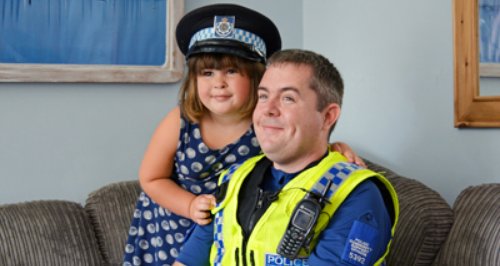 A mum from Bournemouth's thanked a 'hero' Police Community Support Officer for saving her 4-year-old daughter's life.
At around 2.30pm on Saturday 20 June 2015, PCSO Adam Cleaver was on community patrol at Kingsleigh Primary School's summer fete in Bournemouth when he was asked to help a girl who was choking.

PCSO Cleaver, of Winton Safer Neighbourhood Team, rushed across the playground and found Emily Williams struggling to breathe after eating a hotdog.

Adam sprung into action and began using the life-saving skills he'd been taught during his training with Dorset Police to help Emily.

He said:
"Emily was not breathing and looked very panicked and red in the face.

"Emily's mum had already started first aid and I took over to administer four back slaps. Each time I looked to see if the obstruction had cleared.

"It was only on the fourth slap that I managed to dislodge the food and she began to breathe again.

"I am just happy that I was there at the right place at the right time again. It is great to put the first aid skills I have learned from my job to the test and help someone in trouble."
Emily's mum Donna Wilson, of Brierley Road, said:
"Emily was struggling to breathe and I was slapping her back but the blockage just wasn't budging. Someone went to get Adam and he rushed over, knelt down to listen to her breathing and got it out practically straight away.

"I was starting to get really worried about what was going to happen but Adam did a really good job. We are so very thankful to him."

Donna, 41, said Emily didn't require hospital treatment after the incident and asked to find Adam to say thank you to him.

This incident is the second time PCSO Cleaver has helped save a child's life.

In September 2014 he came to the aid of a 17-month-old toddler who was choking on a piece of pasta. The boy wasn't breathing and his heart had stopped.

PCSO Cleaver used his life-saving skills to resuscitate the boy who went on to make a full recovery.

He won a Royal Humane Society Award for his actions that day.

North Bournemouth Neighbourhood Inspector Andy Edwards said:
"We are incredibly proud of Adam who has used his first aid techniques to such good effect twice in a relatively short period. This clearly demonstrates his true professionalism even in the most stressful of situations. We are very lucky to have him as part of the team."