Mysterious Flammable Material Closed M3
25 September 2017, 05:12 | Updated: 25 September 2017, 05:15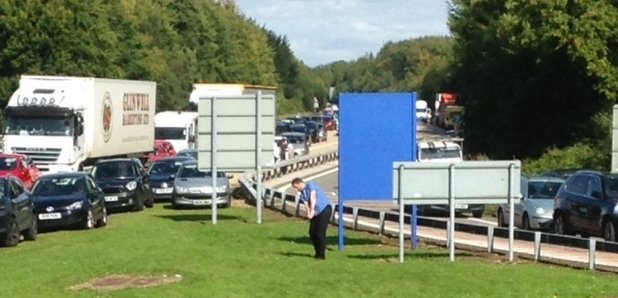 Police are still unsure what the mysterious material that sparked the 11-hour full closure of the M3 was.
Hampshire Police said the "potentially hazardous" substance, which was thrown from a motorway bridge near Winchester, was flammable but not explosive.
The M3 motorway, the main road between London and Southampton, was closed between junctions 9 and 11 after emergency services were called just before 4am on Saturday and it did not reopen until after 3pm.
Social media users shared pictures of the scene near Winchester on Saturday, with one showing a man walking his dog on the hard shoulder, others playing golf, and another doing a handstand on the carriageway.
Military bomb disposal experts were called to the scene but more than 24 hours later, police say tests to determine what the substance was are ongoing.
The force said nobody was hurt and there is no wider risk to public safety following the incident.
Winchester district commander Chief Inspector Mark Lynch said: "We fully understand and acknowledge that due to this closure there was significant disruption to both those using the motorway and to those living and working in the Winchester area.
"But hopefully everyone will appreciate, bearing in mind the nature of what we were dealing with at the time, this was done to maintain public safety.
"What we are seeking are any witnesses or any persons that may have information that relate to it.
"What I can stipulate at this time, is that this is not being treated as a terrorist incident."
The force said officers are also investigating a similar incident on the same bridge, which leads to St Catherine's Hill, at around 4am on Saturday September 16.
On that occasion, police received reports of something being dropped on to the carriageway and that an object was alight but when officers attended they found only broken glass and no fire.