Petition Started To Save Poole Pottery
13 July 2017, 06:27 | Updated: 13 July 2017, 06:33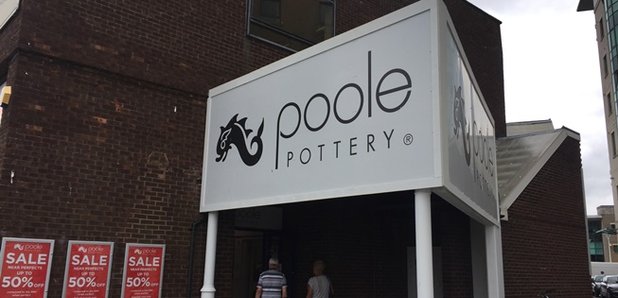 A petition has been set up to save one of Poole's best known companies, which could have to leave the town.
Poole Pottery's expected to close its studio and shop on The Quay after failing to reach an agreement with landlords. It's been based there since 1873.
33 jobs are at risk while the owners search for somewhere else - possibly out of town.
Sue Smith, secretary of the Poole Pottery Collectors' Club, has now started a petition to save the business.
The petition states:
'The owners of Poole Pottery Retail outlet and Studio have been seeking new premises, and unless something is found urgently, on 15th October 2017 Poole Pottery's base in Poole will close.We urge the council to do everything in its power to help the company to secure new premises in conjunction with the owners of the pottery.
'Poole Pottery has been a major part of Poole since 1873 and plays a vital role in attracting visitors to the town. Poole Pottery are an integral part of the towns heritage and have been an important cultural and economic part of the town for 144 years. Although the Pottery is much smaller than at it's height it still proves a draw to locals and visitors alike. Winning, in 2015, silver in the Small visitor Attractions in the Dorset Tourism Awards. It attracts coach trips to the area that provide much needed customers to the other businesses in the town.
'The town is already suffering like so many others in the closure of other retail outlets and if the Pottery closes Poole will lose that which makes it unique from any other seaside town. To lose something that is known worldwide would be a blow that the town would forever regret. There are collectors of the Pottery worldwide. The collectors club has active members in Australia, Canada, U.S.A and in Europe.Whilst the Poole brand is safe it will continue in Middleport the unique one off Studio pieces which are purchased as gifts as well as collectors are hand thrown and decorated in Poole. It is these pieces that take forward the Poole name to the future.
'Please try your best to save what remains of a once larger industry. After all thoughout the town their are building and parts of the factory preserved, it seems stupid to lose the pottery and its very skilled workers, that are still producing such works of art. Once gone it will be lost forever.'