23% Rise In Rubbish Collected From Dorset Beaches
13 May 2014, 07:22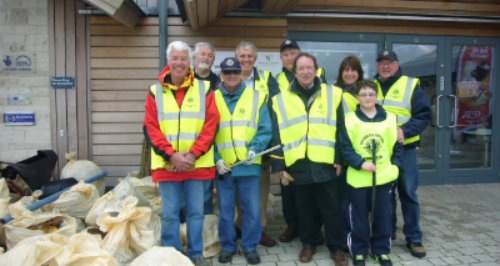 692 people took part in the 26th Great Dorset Beach Clean on 27 April, filling 851 bags with rubbish from 25 beaches across the county.
The annual blitz on the beaches is organised by Dorset County Council's coastal ranger team.
The number of bags collected this year is 23 per cent more than during 2013's Spring Beach Clean, and 65 per cent more than 2012's.
Families, individuals, community groups and local businesses joined forces to clear the beaches ready for the summer.
A beachmaster was on hand at each location to give out rubbish bags, gloves and instructions.
Volunteers were rewarded for their efforts with discounted refreshments at several local cafés, pubs and restaurants.
There were a few odd items found amongst the everyday litter. These included a big chunks of metal and a rather crushed bicycle, an iron girder, a burnt-out mattress, a plastic washing basket and a bath tub.
Jenny Penney, coordinator of the Great Dorset Beach Clean, said:
"I'm overwhelmed with this year?s response by volunteers. It's tremendous that so many people gave their time to help to clean up the beaches along the coastline.
"I would like to thank everyone for coming, despite some appalling weather, and for their fantastic efforts on the day. A special thanks also to our sponsors the Jurassic Coast Trust and Virador."
Dorset County Council Cabinet member for environment and the economy, Peter Finney added:
"After the horrendous storms that hit our beaches over the winter the beach clean efforts of local people were even more appreciated than usual.
"Every bag removed from a beach will help restore our globally-important coastline to its full glory, for wildlife and people to enjoy this summer."
The Autumn Beach Clean will be held on 21 September. More details will be posted on dorsetforyou.com/greatdorsetbeachclean nearer the time.