Route Apps Leading To More Bike Thefts In Dorset
13 October 2015, 12:58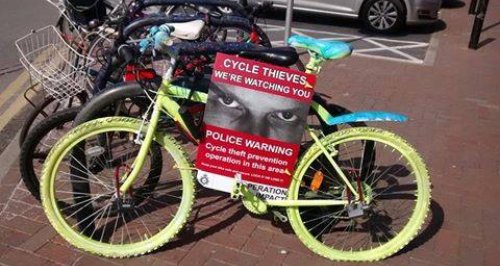 Police are warning social media apps, which map your route while cycling, are contributing to a rise in high value bikes being stolen in Dorset.
Officers from Dorset Police are encouraging cyclists who enjoy Dorset's landscape on two wheels to check their settings on certain apps, particularly people who enjoy sharing their journeys over the internet.

Poole's Safer Neighbourhood Team Sergeant, Ady Thompson, said:
"We have noticed a rise in the number of high value cycles being stolen recently, particularly from the conurbation, which we believe could be linked to people unwittingly leading thieves to their home addresses due to posting information online.

"However, people are still leaving their bikes unlocked when unattended, which makes the theft a low-risk, high-reward crime in the eyes of a criminal.

"We are urging all cyclists to be mindful of the amount of personal information which they share over the internet and how this can be interpreted by criminals, as data isn't just accessible to fellow enthusiasts, but to thieves too.

"Changing the privacy settings on an app will make it hard for would-be thieves to pinpoint where the bike is stored when not in use. It takes seconds to do, but can save thousands of pounds, hours of frustration and upset and deny the criminal a 'quick thrill' or a sale."

Since April this year, there have been 481 reports of pedal cycle theft across Dorset, with 124 reports coming from the Poole area (just over 25% of the reports the force receives for cycle crime).

Sgt Thompson continues: "The value and quality of the stolen bikes varies, but in Poole, there is an unusually large number of high value bikes taken, worth an average of £600 each, which equates to an approximate financial loss of £74,400 to the community.

Areas which have had the most cycles stolen in Poole are: Poole town centre, Oakdale, Ashley Road and Poole Park.
Officers proactively patrol areas which have had cycles stolen and use the Bright Bikes initiative to remind cyclists to secure their property, which also acts as a visible deterrent to criminals.

Sergeant Thompson added:
"Doing simple things such as getting your bike marked by your local Safer Neighbourhood Team (SNT) officer, removing bike racks from vehicles when at home, using ground anchors when your cycle is stored away, locking your bike with two different types of locks and when buying a second hand bike and checking the details on Bike Register to make sure it's not stolen, all help deter thieves from stealing your property."

SNTs also hold cycle marking events, where they engrave bicycles and register them onto bikeregister.com. An officer can also do this at a time and location suitable for the cyclist.

A 16-year-old Poole boy has been arrested on suspicion of attempted burglary, vehicle interference and possession of an offensive weapon and bailed until the end of October 2015 pending further enquiries and a 25-year-old Ferndown man has been arrested for handling stolen goods. He is answering police bail in mid November.