South Coast Train Passengers At Risk By Using Phones
29 September 2016, 08:10 | Updated: 29 September 2016, 08:14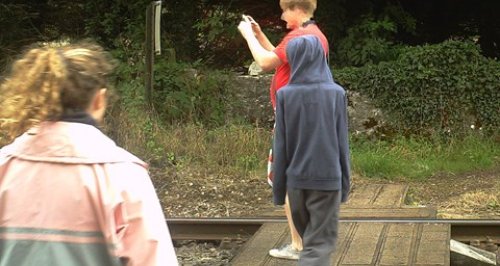 Network Rail says hundreds of passengers in Hampshire and Dorset are putting themselves at risk by using their phones around trains.
The report shows that 1 in 5 rail users in Southampton have reported being in a near miss or accident while on their phones, and more than a quarter of rail users in Bournemouth admitting to the same.
The figures also show that, in Southampton, 33% report using their phone when catching or getting off a train and 29% admit they use their mobile when crossing a road. 1 in 10 even admitted to using their phone while using a level crossing.
In Bournemouth, the figures were higher with 44% reporting using their phone when catching or getting off a train, 41% admitting to using their phone when crossing a road and more than 1 in 6 admitting to using a phone while using a level crossing.
While Britain still has the safest rail network in Europe, level crossings are one of the biggest public safety risks on the railway. In the last five years there have been 169 incidents on level crossings² in Network Rail's Wessex route, which covers Surrey, Hampshire and Dorset.
Priti Patel, head of health and safety at Network Rail, said:
"Many people are aware of the risks of mobile phone distraction on the road, but dangers also exist on the rail network. It is very worrying that so many people admit to putting themselves at unnecessary risk by using their phone when on the railway, particular at level crossings.
"We are investing more than £100m to improve level crossing safety across Britain but we also need everyone who uses level crossings to do their bit too. By avoiding distractions, paying attention to the warnings at level crossings and staying alert we can all keep ourselves out of harm's way."
Network Rail's level crossing and community safety managers will be raising awareness of rail safety by holding safety events and encouraging young people to stay alert when on the rail network over the coming week.
The Populus research on phone distraction also highlights 95 per cent of under-25's own a smart phone and spend twice the amount of time on their mobile than the average user. One in three young adults admits they would be more aware of their surroundings if they ditched their phone for 24 hours. Most spend time checking social media (63%) and surfing the web (44%).
Kevin Clinton, head of road safety at the Royal Society for the Prevention of Accidents (RoSPA), said:
"As we advise drivers and pedestrians to avoid becoming distracted when they're in a road environment, it's essential that people are also fully aware of what's happening around them when they use level crossings. Avoid being dangerously distracted by a mobile phone call, texting, using an app or listening to music through your headphones at a crossing so you're well aware of what the warning lights, barriers and signs are telling you.
"Trains travel so fast that one could reach the crossing before you get to the other side if you cross when it's not safe, and of course, the train has no chance of stopping or swerving to avoid a collision. Take special care at level crossings on footpaths, bridleways and other rights of way where there are no barriers or railway staff."