Inspections Start After Huge Bournemouth Landslip
27 April 2016, 07:33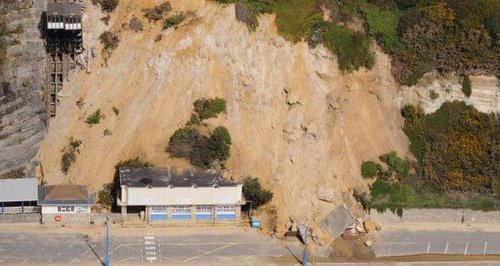 Experts will start assessing the site of a huge landslip on Bournemouth seafront.
It destroyed a toilet block and damaged the Edwardian funicular cliff lift in the early hours of Sunday (24 April) as tonnes of debris crashed down, when the pathway at the top of the 100ft verge gave way.
It is believed heavy rainfall on the east Dorset coastline, coupled with a dip in temperature over the weekend, could have triggered the landslide. Workers awoke on Sunday to discover the railway, which was built in 1908, was partially submerged by debris - while a public toilet block at the foot of the cliffs was destroyed.
Nobody was injured.
A temporary road closure is being put in place in part of East Overcliff Drive in readiness for detailed geo-technical assessments to get underway first thing in the morning on Wednesday 27 April.
This assessment involves detailed monitoring for up to seven days and the road will remain closed for the duration of the inspection period. Traffic diversions will be in place from East Overcliff Drive's junction with Manor Road and at the Russell Cotes Road junction with Bath Road.
The East Cliff Zig Zag to the west of Meyrick Road will also be closed from both the top and bottom of the cliff and the cordon along the promenade will extend 120m either way from the site of the land slip, to allow full assessment and inspection to take place.
Chris Saunders, Head of Seafront Operations, said: "The advice received is that further land slips are not likely to be imminent. However, a close and detailed assessment of the area of cliff from both the top and bottom is necessary over a number of days, in order for recommendations to be made about what future work or further decisions are necessary.
"Barriers and cordons will remain in place during this time and, so as not to impede the inspection, we are asking the public to observe these cordons."
(Photos: Top - Bliss Aviation, Bottom- Bournemouth Borough Council)