Trapped Birds In Waterlooville Freed With Smart Phones
8 March 2017, 07:24 | Updated: 8 March 2017, 07:26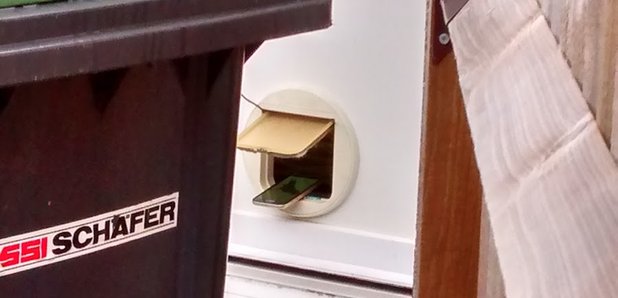 A group of birds, that had been trapped inside a locked up house in Waterlooville, have been lured out with a tray of food and a smart phone.
A quick-thinking RSPCA inspector propped open a cat flap, in Cherry Tree Avenue last week, and played jackdaw calls on his phone to encourage them out.
Inspector Graham Hammond arrived at the property on Wednesday 1 March to find that three of the corvids had got stuck in the chalet home and had no way to escape as the property was locked with no way of any neighbours getting in.
After some quick thinking he put together a mixture of bird seed, meal worms and cat food on a tray and by playing jackdaw calls on his mobile phone to encourage the birds towards the door.
RSPCA inspector Graham Hammond said:
"I arrived at the house and saw there were three jackdaws trapped inside the house and we couldn't get hold of any key holders.
"There were another six birds outside the property so the likeliest scenario is the three that were trapped were from the same group but went down chimney!
"It looked like the internal doors were open and the birds could fly around the property. I could see them pecking at the upstairs window trying to get out. They had totally ransacked the house - there were upturned pots and ornaments everywhere!
"There was a cat flap in the rear of the house and we managed to open this, and with the help of a friendly neighbour I put together a smorgasbord of mixed bird seed, meal worms and cat food, with a tray of water. I placed this through the cat flap on the inside of the property and wedged the cat flap open, hoping that they would come down, see the food and the open cat flap.
"When they didn't leave I thought of using my smart phone to play jackdaw song. I put this on the entrance to the cat flap. I gradually moved the food out of the cat flap along with the phone and sure enough, after a little while, they all left the property through their new found escape route."