Trio Jailed For Bournemouth And Poole Armed Robberies
7 February 2017, 06:27 | Updated: 7 February 2017, 06:34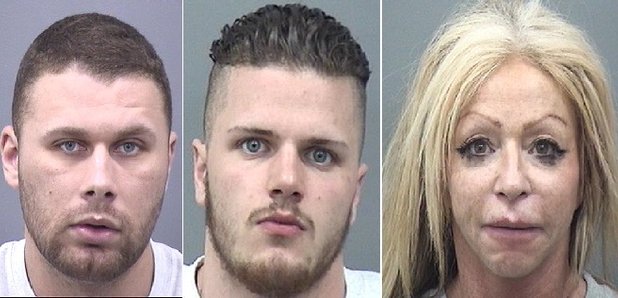 Two men and a woman have started jail terms for robbing two female escorts in Bournemouth and Poole - at gun and knifepoint.
They were grabbed in headlocks, tied up and threatened last year - a third was robbed in Canterbury.
Mitch Alexander Jarvis, 24, Saul Powell, 24, and Barbara Ann Edwards, 51, were sentenced at Bournemouth Crown Court on Monday 6 February.
Jarvis, of Martins Close, Ramsgate, and Powell, of Dundonald Road, Ramsgate, had previously pleaded guilty to two counts of robbery, attempted robbery, conspiracy to commit robbery and possession of an imitation firearm.
The judge ruled that Jarvis and Powell met the criteria of "dangerousness" and they were both handed extended sentences of 17-and-a-half years. This comprises of 13 years and six-months in prison, of which they must serve two-thirds before being considered for parole. Once released they will be on licence for an extended period of four years.
Edwards, of Guest Avenue in Poole, was found guilty following a three-week trial of two counts of robbery, attempted robbery, conspiracy to commit robbery and possession of an imitation firearm and was handed a 10-year prison term.
The court heard that the first incident occurred on Friday 18 March 2016 at an address in the Old Christchurch Road area of Bournemouth.

The victim - a woman aged in her 20s - received a phone call from a man wanting to book an appointment. Shortly before 11pm the man - now known to be Jarvis - arrived and he was let into the flat.
Jarvis confronted the victim with a handgun, grabbed her tightly around the throat and placed her into a headlock. He pushed the gun into the back of her neck and demanded money. The victim said she did not have any money and Jarvis left empty handed, the court heard.
The second incident occurred at around 2pm on Saturday 19 March 2016 at an address in the Alder Road area of Poole.
The victim - aged in her 20s - was expecting a client and answered the door to Jarvis. He placed her in a headlock and forced her into the living room. Powell then entered the premises holding a gun.
The victim's wrists were bound with cable ties and gaffer tape was placed over her mouth, the court heard.
Jarvis and Powell ransacked the flat for around two hours before one left with a gym bag full of her belongings. The other man stayed with the victim for a further 30 minutes before he cut the cable ties and left.
Cash, an iPhone, an Apple Macbook and a number of items of jewellery were taken.
A third offence happened at an address in Canterbury in Kent on Monday 22 February 2016 when Powell and Jarvis robbed another woman working as an escort at knifepoint. They stole a quantity of cash and an iPhone, threatening to do the same to her family if she called the police.
The court heard that Powell and Jarvis conspired with Edwards, who also worked as an escort, to commit the robbery offences. A list was found at Powell's home which contained a second phone number for Edwards. Lists were also found at Edwards' and Powell's homes containing the names of two of the victims.
The court heard that on Sunday 20 March 2016 officers stopped an Audi Q7 in Charminster Road in Bournemouth. Edwards was driving wearing latex gloves and a balaclava and Jarvis had a handgun in his waistband and was carrying gaffer tape, leather gloves and cable ties. Powell had a balaclava, locking knife and latex gloves.
The gun recovered from Jarvis was a blank firing pistol.

Detective Sergeant Catie Holmes, of Bournemouth CID, said:
"Saul Powell, Mitch Jarvis and Barbara Edwards conspired to commit these robberies and target vulnerable women.
"I would like to pay tribute to the victims for having the confidence in Dorset Police to come forward and report the offences.
"Dorset Police takes all reports of violence extremely seriously, regardless of someone's background or circumstance. We will listen, our officers will thoroughly investigate and we will bring offenders to justice. I would urge anyone who has been subjected to these types of crimes to please contact Dorset Police.
"Finally, I would like to thank the team of officers who have worked on this case over a number of months for their dedication and commitment."
Detective Inspector Kate Lill, of the Serious Sexual Offences Team, said:
"During the lengthy and difficult investigation now known as Operation Birch, the officers have gained good and trusting working relationships with several of the witnesses and victims, who work within the sex industry
"This has been one the key elements in the success of this trial and is hopefully a starting point to achieve continued communication between people working within the sex industry, our liaison officers and investigators.
"My team will continue to further engage with them by phone and on social media to make sure they work as safe as possible and know how to get help if needed."