Women Sentenced For Smuggling Tobacco Through Poole
14 October 2015, 13:10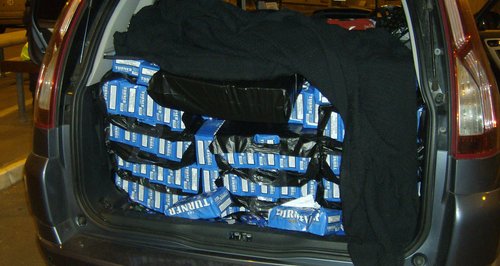 Two women have been given suspended prison sentences for smuggling 200 kilos of tobacco into the UK through Poole's ferry port.
The two women from Greater Manchester were caught smuggling illicit hand-rolling tobacco in a car boot, so it could be sold on the black market - evading £34,548 in excise duty.

Jessica Beddoe, 25, and Victoria Brown, 34, hid the tobacco under a blanket in the boot of a Citroen Picasso being driven by Brown. The women were arrested by Border Force officers at Poole's continental ferry port on 1 September 2013 as they got off a ferry from Cherbourg, France.

Officers from HM Revenue and Customs (HMRC) began to investigate and believe that the tobacco was destined for sale on the black market in the Greater Manchester area.

Colin Spinks, HMRC Assistant Director, Fraud Investigation Service, said:

"Beddoe and Brown were naïve to think they could get away with smuggling tobacco into the UK. This type of crime costs our economy around £2 billion a year and undermines honest retailers who have to compete with such illegal trade. People with information about tobacco smuggling should contact the Customs Hotline on 0800 59 5000."

In March 2015 Brown pleaded guilty to defrauding excise duty on the smuggled tobacco. Beddoe pleaded guilty on 9 July 2015; the first day of her trial at Bournemouth Crown Court, Dorset. They were sentenced at the same court on 14 October 2015.

Victoria Brown was sentenced to six months imprisonment, suspended for 12 months. Jessica Beddoe was sentenced to four months imprisonment, suspended for 12 months. She must also complete 120 hours of unpaid work.