Work Well Underway on New Events Space
24 June 2013, 12:58 | Updated: 24 June 2013, 13:09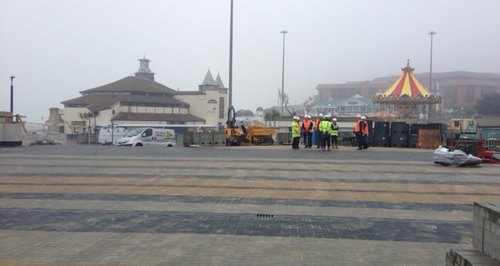 Work's well underway on the new outdoor events space on Bournemouth seafront which replaces the hated IMAX building.
The first performance there, by the Bournemouth Symphony Orchestra takes place on Saturday June 29th. Two free concerts will take place at 4pm and 8pm to celebrate the opening of the site. They are ticket-only.
Councillor John Beesley, Leader of Bournemouth Borough Council, said:

"Landscaping of the Pier Approach open events space is well underway in preparation for the Bournemouth Symphony Orchestra concerts taking place at the end of June.

"Finishing touches to the space will continue after the concerts and into July, ready for the summer entertainment programme, starting at the end of next month.

"I'm confident the extension of the Pier Approach space will be an excellent arena in which people can spend time interacting and enjoying themselves."
Find out more information and see the work in progress here.