3 Men Guilty Over Luton Shootings
30 May 2014, 13:32 | Updated: 30 May 2014, 13:54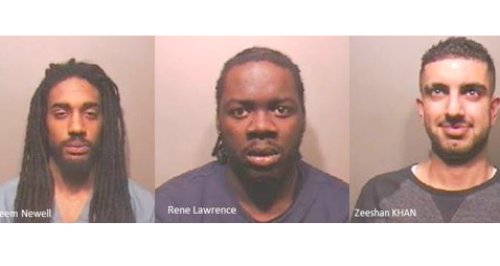 Three men have been found guilty in connection with firearms incidents that happened in Luton during April and May 2013.
Khadeem Newell, 22 years, from Jasmine Road, Luton was charged with conspiracy to murder, attempted murder and the possession of a section 5 firearm with intent to endanger life, in connection with a shooting that happened in Fountains Road on May 5, 2013. He was sentenced to 22 years imprisonment with a minimum term of 11 years.
Rene Lawrence, 24 years, of Littlefield Road, Luton was also found guilty of conspiracy to murder in connection with the shooting in Fountains Road and also two further shootings; the first in St Michael's Road on April 24 and another in Tudor Road on April 30. He was sentenced to life imprisonment with a minimum term of 11 years.
Zeeshan Khan, 23 years, of Connaught Road, Luton was found guilty of assisting an offender by helping Newell to escape from the scene on May 5. He was found not guilty to the charge of conspiracy to murder. He was sentenced to 3 years imprisonment.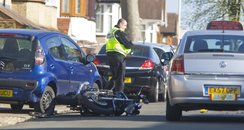 During the trial the jury heard that Newell had been hired as a hit man to target two men over a debt dispute. On May 5, the men were travelling together along Fountains Road in a BMW at approximately 9pm when a motorcyclist discharged a gun at the rear side window of the BMW, the bullet passed straight through the car exiting the other side.
The car driver followed the motorcyclist as he fled the scene, clipping a cyclist and crashing in to a taxi in Culverhouse Road. As another shot was fired as the motorcyclist ran from the scene, leaving the bike, his helmet and one training shoe behind. When forensic examinations were completed it was found the helmet and shoe contained Newell's DNA and fingerprints. After Scenes of Crime Officers recovered the bullets it was also found that they matched the bullets used in the Tudor Road incident.
The jury also heard how Lawrence had played a key role in organising all the incidents including the shooting in St. Michael's Road on April 24, and the shooting of one of the victims as he left work on April 30 in Tudor Road, which left the man with serious leg injuries.
Speaking after the sentencing, the officer in charge of this investigation, Detective Sergeant Duncan Young, who received a commendation from Judge Michael Kay QC after the sentencing, said: "These incidents have not only had a detrimental effect on the men targeted but also on their families and the communities within Luton as a whole. During all three incidents the use of a firearm within a public place put people in fear and at great risk.
"Bedfordshire Police will not tolerate firearms related offences within Bedfordshire and the investigation team left no stone unturned in this inquiry. Using specialist forensic techniques led to Newell's identification and painstaking telephone work meant that the others, who are also now facing long terms of imprisonment, were also identified.
"Operation Boson, the force's crackdown on firearms related crime, continues to pursue those who commit firearms related offences within Bedfordshire. The team have so far executed 109 warrants, arrested 136 people and recovered 19 firearms. I hope this court result and subsequent sentencing sends a clear message to those who commit firearms offences - Bedfordshire Police will continue to use all the powers and specialist techniques available to them to stop this behaviour and keep the communities within the county safe."
Officers are continuing to seek further information relating to others who were believed to be involved in this inquiry and anyone with information is urge to contact Bedfordshire Police, in confidence, on 101, or text information to 07786 200011. Alternatively they can contact the independent crime fighting charity, Crimestoppers, anonymously, on 0800 555 111.
A fourth man, Mohammed Parvaiz Khan, 29 years, from St Ethelbert Avenue, Luton was found not guilty to conspiracy to murder and assisting an offender.