Great Train Robbery Anniversary
8 August 2013, 10:50 | Updated: 8 August 2013, 10:54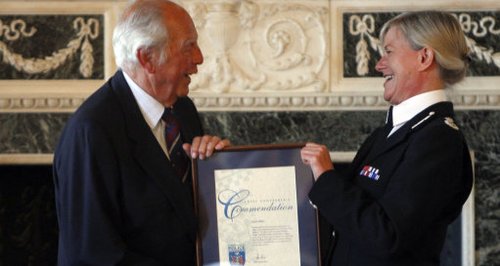 Fifty years after The Great Train Robbery, an event's taken place to praise police who searched for the men who robbed a mail train in Buckinghamshire.
On 8 August 1963, a gang of robbers, masterminded by Bruce Reynolds, stopped the Glasgow-Euston overnight mail train as it passed close to Cheddington, near Leighton Buzzard.
On board were huge numbers of used bank notes.
Twelve of the robbers were jailed for a total of more than 300 years but more than one broke out of prison, including notorious criminal Ronnie Biggs, who spent over 30 years on the run before he finally returned to Britain in 2001 to face arrest.

Reynolds returned in 1968, five years after the crime, and was captured in Torquay and jailed for 25 years.

Two Buckinghamshire Constabulary police officers who were involved in the investigation attended a police commemoration event alongside serving Thames Valley Police officers at Eynsham Hall in Witney, Oxfordshire, on Wednesday 7 August 2013.

Keith Milner was a detective at Aylesbury at the time of the robbery, while John Woolley was a PC and discovered Leatherslade Farm near Brill, Buckinghamshire, where the men hid after committing the crime.

Biggs insisted in July 2013 that he was proud to have been part of the gang.

The famous fugitive, who celebrates his 84th birthday on 8 August 2013, escaped from prison in 1965 and spent 36 years on the run before finally being arrested and jailed in 2001.

Released from prison on compassionate grounds in 2009 due to ill health he is still alive, being cared for in a north London nursing home, and he has few regrets about the crime that made him a household name.

Biggs, who cannot speak and communicates through a spelling board, said: "If you want to ask me if I have any regrets about being one of the train robbers, my answer is, 'No!'.

"I will go further: I am proud to have been one of them. I am equally happy to be described as the 'tea-boy' or 'The Brain'.

"I was there that August night and that is what counts. I am one of the few witnesses - living or dead - to what was 'The Crime of the Century'.''

But although he is proud to have been involved in the headline-grabbing crime, he admitted he does have some regrets.

"It is regrettable, as I have said many times, that the train driver was injured,'' he said. "And he was not the only victim.

"The people who paid the heaviest price for the Great Train Robbery are the families. The families of everyone involved in the Great Train Robbery, and from both sides of the track.

"All have paid a price for our collective involvement in the robbery. A very heavy price, in the case of my family.

"For that, I do have my regrets.''
Ronnie's son Michael, who was born while Ronnie was on the run, spoke exclusively to Heart and said he isn't proud of his dad being a criminal, but he is proud of the man his dad is.
"I believe if you commit a crime, you have to do the time," he said, "but the time has to be proportional with the crime that you've committed.
"The sad bit was that he went into the train robbery because he needed £500 to put a deposit on his house. About a week before the robbery, he won the £500 in a bet on the horses but there was no turning back then."
Listen to Michael Biggs speaking to Heart's Amy Woodfield

A new book has been published to mark the 50th anniversary - The Great Train Robbery - 50th Anniversary - 1963-2103, said to explain first-hand the complete story of the robbery.

Both Biggs and Reynolds, who died in February, contributed to the book, which has been written by Reynolds' son Nick, along with Biggs' autobiographer Chris Pickard.

Mr Reynolds and Mr Pickard said the book was an aim at "setting the record straight'', and putting right any inaccuracies in a tale that has become folklore.