Hundreds Attend Funeral For Murdered Man
31 May 2013, 16:23 | Updated: 31 May 2013, 17:06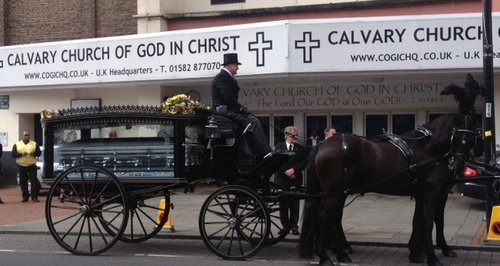 Around 500 people turned up to a church in Luton for the funeral of 46 year old Paul Foster.
Mr Foster was shot in the chest outside a house on Brunel Road, Lewsey Farm on 9th April.
Friends took him to the Luton and Dunstable hospital where he died shortly after leaving behind a wife and three children.
His coffin arrived at the Calvary Church of God in Christ in Bury park by horse and carriage.
The service lasted around an hour.
Afterwards Heart spoke to Mr Fosters friend Glen Roy Campbell who was with him the night he was shot:
"It was a real good send off that we had for him, there was mixed emotions in there, there's a lot of people who were there for the send off of him and there's a lot of people there to mourn for him because he was such a great man in the community"
Two men have been arrested and released on bail
Mr Campbell says:
"We've just got to live our life and remember him and just show that to our children so that Luton can change, this community has to change
"His killers will come to justice, Delaney's killers came to justice, his killers will come to justice"