Dance Through The Decades At Our Zumba Party 2019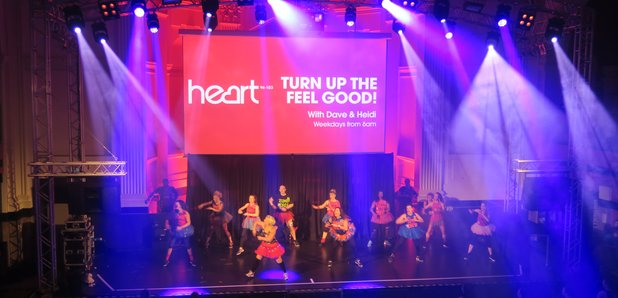 Take a trip back in time with us, dress to impress and Make Some Noise!
Fancy being part of an amazing event and raising money for charity? We need dozens of people to join in with our Zumba through the decades Party! Come on a musical journey through time and dress in your favourite retro outfit too!
Date & Place
The party is being held on Saturday 23rd February 2019 at OPEN Norwich The event will take place between 11am and 2pm. You don't have to dance all the time, just come along and join the party!
To make the event even more fun, you're welcome to dress in your best retro outfits. You could dress up as one of your favorite characters or celebrities from decades past or just choose a style!
What's it for?
It's to raise money for our charity Global's Make Some Noise who give a voice to small projects supporting disadvantaged children and young people. We are currently supporting the fantastic Norfolk Family Carers charity.
How do I join in?
Tickets can be purchased from the Zumba instructors listed below in advance or by emailing gary.stevens@global.com. The cost is £12 in advance to get a wristband and take part for as long as you want. Bring your friends, family or work mates. If you get sponsored as well, even better! The Heart Angels will look after you on the day and there will be other chances to raise money. Any remaining tickets will be sold on the door on the day on a first come first served basis for £15. Please be aware last year the event sold out before the day.

Can children join in?
This is primarily an adult event due to health and safety. Children of 10 and over are welcome to take part but must be supervised by an adult at all times. Children under 10 are not allowed to participate in the main area but are allowed upstairs on the gantry overlooking the event. Prams and pushchairs are not permitted on the main dance floor area but again are permitted on the upper floor gantry.

More Info
For more details of the event, questions and info on how to get advance wristbands, please use the contact form below or email: gary.stevens@global.com
Join the Facebook event page here:
The Instructors
This event could not take place without the help and time of these fantastic Zumba instructors below. Advance tickets can also be obtained from their classes. Click on their links to find out more about them.
Debra Debs Cossey - Mowle

Diana Cristea
Sarah Foster

The Power Twinzz - Gabriel & Adrian