£10.2 M Worth Of Fake Goods Seized At Felixstowe
26 September 2018, 17:17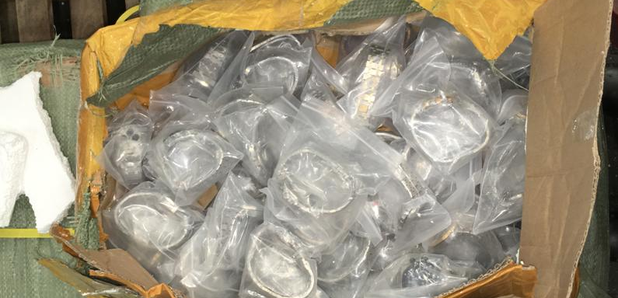 Border Force officers at Felixstowe have seized £10.2m worth of fake goods including perfume, footwear and high end watches.
The goods were discovered when Border Force officers searched two containers which had arrived from China. The bulk of the value came from 300 fake Audemars Piguet Royal Oak Chronograph watches, genuine examples of which retail for approximately £21,500.

The items had been sent over in two bulk consignments.

The products found in the first consignment included 5,280 bottles of perfume by perfume houses including Armani, Chanel, Creed, Dior, DKNY, D & G, Gucci, Hugo Boss, Jimmy Choo, Joop, Michael Kors, Paco Rabanne, Thierry Mugler, Tom Ford and YSL.

Two weeks later, 300 Audemars Piguet watches, 300 Adidas flip flops, 1,400 Armani man bags, 669 pieces of Chanel crockery, vases and lights, 1,200 Gucci man bags, 240 Gucci flip flops, 2,000 Gucci purses, 1,000 Louise Vuitton purses, 400 Louis Vuitton man bags, 840 Louis Vuitton flip flops, 600 Nike flip flops, 300 Puma flip flops and 141 pieces of Versace crockery, vases and lights, were found.

Matthew Davis, Assistant Director for Border Force at Felixstowe, said:

"The international trade in counterfeit goods is serious organised crime and a threat to the UK economy in terms of lost profits and tax revenues.

"Counterfeit goods leave customers out of pocket with inferior and possibly dangerous products.

"This was a significant seizure and a testament to the dedication and expertise of my officers here at Felixstowe."

The goods, which were detected on 21 August and 7 September, were bound for a trader in South London.

Since the seizure, Border Force's specialist international trade team has worked with the rights holders who confirmed on Monday (24 September) that the goods were fake. The items will now be destroyed and the case has been referred to Ealing Council Trading Standards for further investigation. The rights holders also have the option to privately prosecute the importers.

Anyone who has been sold counterfeit goods or knows someone who is selling them should contact Action Fraud on 0300 123 2040.