14 Jailed For Norfolk Cannabis Operation
27 July 2017, 17:16 | Updated: 27 July 2017, 17:19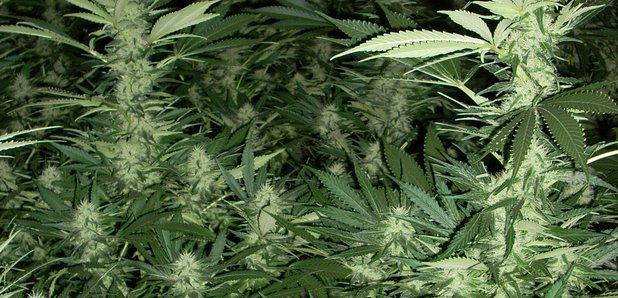 An organised crime gang responsible for a multimillion-pound plot to cultivate cannabis on an industrial scale has been jailed at the Old Bailey.
The criminals produced cannabis in Kent and Norfolk between 2013 and 2015 in what is believed to have been the biggest conspiracy to grow the drug ever uncovered in the UK.

Their operation yielded cannabis with a street value of more than #25 million a year, which investigators said would have been funnelled into funding further crimes.

A total of 16,428 cannabis plants were seized at sites set up in almost an identical manner in Rochester, Sittingbourne and North Walsham.

Each location had purpose-built two-storey wooden constructions built on them, and the layout and equipment used within them were also identical.

At the Norfolk site, the total loss of electricity caused by the power supply being tampered with and the meter being bypassed totalled around #30,000.

The illicit operation began to unravel when police found the first factory, in Rochester High Street, after being called to reports of a burglary there on June 28 2013.

Officers discovered the unit had been leased to James Allen since December 2012. And further inquiries revealed that Allen and other gang members had rented other units at the site under false names.

Fifteen people, including Allen, 39, were convicted of conspiring to produce cannabis. Of the 15, 14 were also convicted of abstracting electricity.

Following the sentencing of 14 of the 15 criminals, Detective Inspector James Derham, of the Kent and Essex Serious Crime Directorate, said: ``This was a highly organised and prolific conspiracy to produce and sell cannabis on an industrial scale.

``We estimate the annual street value of these plants was in excess of #26 million - a significant amount of money that could have been used to fund further criminal activity.''

Detective Inspector Tom Smith, from Norfolk Constabulary, said: ``This was the largest cannabis factory ever discovered in Norfolk during a joint operation with Kent and Essex Serious Crime Directorate.

``The operation was complex and time consuming but demonstrates that organised crime and drug trafficking networks operating in Norfolk will be targeted and closed down.''

Following a four-day sentencing hearing, Kent Police said Allen, of Woolwich Road, Abbey Wood, got seven years jail; Stephen Macey, 25, of Commercial Road in Paddock Wood, six years; and Christopher Marsh, 30 of Ethelbert Road, Margate, four years.

Damon Mills, 18, also of Ethelbert Road Margate, was sentenced to 18 months; Michael Edward Corcoran, 51, of Mount Avenue in Yalding, got 14 years, and his son Michael Jay Corcoran, 28 of Odo Rise, Gillingham, got eight years.

Stefan-Alex Henderson Clarke, 28, of Kennedy Walk, Walworth, was sentenced to seven-and-a- half years; and Stuart Sollis, 51, of Bowyer Street in Camberwell, got eight years.

David Heath, 48, of Wentworth Crescent in Peckham, was sentenced to seven years; Colin Walls, 53 and of no fixed address, got six years, and Terrance Murphy, 47, of Caspian Way in Purfleet, Essex, got three years.

Stephen Creed, 46, of Beccles Road, St Olaves, Great Yarmouth, got six years; David Graham, 51, of Plaistow Lane, Bromley, got nine-and-a-half years, and Andrew Prowse, 33, previously of Southampton Way, Camberwell, got two-and-a-half years.

A 15th offender, Alan Marquiss, 69, of Disraeli Road in Thamesmead, will be sentenced in September.