15 Fire Crews Tackle 25 Acre Crop Fire In Elvedon
25 July 2018, 17:15 | Updated: 25 July 2018, 17:18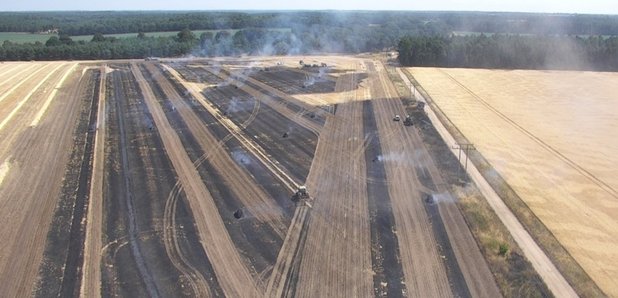 Fifteen fire crews have been battling to a 25-acre crop fire at Elveden today.
Suffolk Fire Service were called in at 10.24am and a drone was used to help direct units on the ground and a local farmer who was helping, to create fire breaks.

It was brought under control by 12.20pm.

The cause of the fire is not known.

A fire service sokesman said "Since Saturday we've had over 150 calls and over 75 of those have been field-related or fires out in the open.

"There have been a lot of calls coming in and the fire service are working very hard at the moment.

"Everything is tinder dry out there.

"All it takes is a combine harvester to hit a bit of flint and it all goes up."

It's as a farm attraction in Suffolk had to be evacuated as well today, when a fire broke out on a neighbouring farm's field.

Staff at Jimmy's Farm, in Wherstead near Ipswich, which is run by chef Jamie Oliver's best friend and TV co-host Jimmy Doherty, ushered visitors out as a precautionary measure earlier on.

Nichola Adams, festival director there, said there were "huge plumes of black smoke".

The attraction hosts more than 300 rare-breed pigs and comprises a working farm, wildlife park, adventure play area and restaurant.

Explaining the decision to evacuate the attraction, she added: "It was very close to the farm park and we had public on site.

"We evacuated it as a precaution and people went very calmly.

"We will be back open tomorrow."

A Suffolk Fire Service spokesman said it received a 999 call at 2.05pm on Wednesday and eight fire engines were sent to tackle the blaze at Blue Gates Farm.

It was under control by around 3pm, the fire service said, adding that the cause of the fire was not known.