Two Sentenced To Death Over Hannah Witheridge Murder
24 December 2015, 06:03 | Updated: 24 December 2015, 06:13
Two men accused of murdering Hemsby woman Hannah Witheridge in Thailand have been found guilty and sentenced to death.
The bodies of 23 year-old Hannah and her friend, 24 year-old David Miller from Jersey, were found on a beach on the island of Koh Toa in September last year.
The pair had met while staying in the same hotel while on the island.
Post-mortem examinations showed that both had suffered severe head wounds.
Miss Witheridge had been raped while Mr Miller died after being hit over the head before drowning in the sea.
Two Burmese migrants - Zaw Lin and Wai Phyo - had initially confessed to killing the pair, but then retracted their statement claiming they had been tortured by police.
Prosecutors claimed DNA evidence collected from cigarette butts, a condom and the bodies of the victims, linked Lin and Phyo to the killings.
But lawyers representing the pair, both 22, said DNA samples from the alleged murder weapon - a garden hoe - did not match that of the two men.
The defence team said DNA evidence was mishandled by police and the defendants' confessions was a result of torture in the context of "systematic abuse" of migrants on Koh Tao.
A bizarre reenactment of the murders in which the defendants were paraded in front of the media was also "staged under threat of violence", the lawyers added.
Thai police denied using force during their investigation.
However, overnight in a court in Koh Samui three judges found the men guilty of murder ordered they both face the death penalty.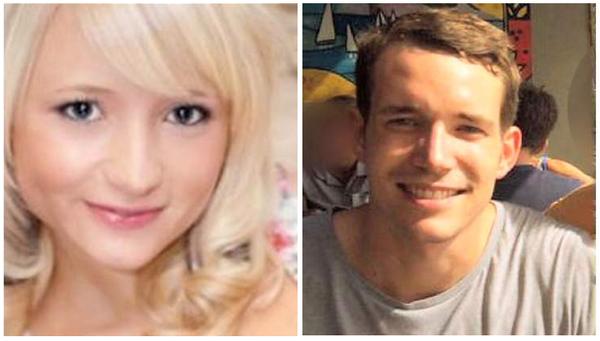 Miss Witheridge's family weren't in court, but have released this statement:
"As the trial concludes and the verdict is delivered, our family, once again, find ourselves in the path of a whirlwind of emotions and difficulties. In these challenging times, we try to concentrate our efforts on remembering our beautiful Hannah for the fun, vibrant and incredible young woman that she was.
"Had her life not been tragically and unnecessarily cut short, she would now have completed her Master's degree in Speech and Language therapy and would be about to embark on a fulfilling and worthwhile career. She would have gone on to make a significant difference to the lives of many. On the basis of Hannah's dedication and passion for Speech and language therapy and the excellent feedback she received during her placements, the University of Essex has introduced an award for outstanding excellence in clinical placements in her memory. It will be named the 'Hannah Witheridge Award for Clinical Excellence'. Hannah will be the first recipient. As a family, we are touched by this beautiful tribute to Hannah as the hard working, dedicated young woman that she was.
"The past year has served as an unimaginably impossible time for our family. We have found the trial process extremely difficult and our trips out to Thailand, to attend court, made for particularly distressing experiences. We found listening to proceedings very challenging and we have had to endure a lot of painful and confusing information. We now need time, as a family, to digest the outcome of the trial and figure out the most appropriate way to tell our story."
Mr Miller's family were there and said the "correct verdict" had been reached.
Mr Miller's brother Michael, flanked by parents Ian and Sue, said outside court: "We believe the result today represents justice for David and Hannah.
"David always stood up for justice and justice is what has been delivered today.
"We respect this court and it's decision completely.
"It is our opinion that the evidence against Wai Phyo and Zaw Lin is absolutely overwhelming.
"They raped to satisfy their selfish desires and murdered to cover up that fact. They have shown no remorse during the trial.
"We believe the correct verdict has been reached.''
The mothers of the two defendants burst into tears after the verdicts and emerged from court as Mr Miller's brother finished the family's statement.
The guilty men's legal team said they "strongly disagreed" with the verdict but "respected" it.