30,000 Biscuits Collected For Big C In Norwich
14 December 2018, 15:31 | Updated: 14 December 2018, 17:27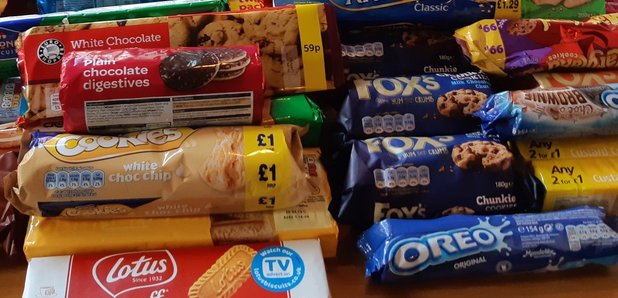 A woman from Taverham has collected more than 30,000 packets of bicuits for Norwich's Big C centre.
Jill Watkinson, also known as 'Biscuit Jill', started to collect the packets following a work trip to the Norfolk and Norwich Hospital's Big C centre, where she found out that staff weren't having biscuits supplied to them.
Jill, who regularly hosts Norfolk TweetUps for the local business community to meet and network, decided to make the entry fee to events a packet of biscuits, which could be given to the Big C centre. Meet ups are now even organised to be near supermarkets and corner shops so no one can have an excuse for turning up empty handed!

30,000 donations have been made thanks to Jill's campaigning. She told Heart why she feels it's so important for patients and families that go to the centre:
"It's just that sitting down with a cup of tea and a plate of biscuits. It's not going to change your diagnosis but just for that few minutes you're normal, you're just relaxed and you can sit and you can chat, that's so important.
"They had to rely on donations or take the money out of funds and I thought 'Oh no, that's not right! Surely as the business community of Norwich and Norfolk we could help out in some way."
Jill went on Twitter to try and get her appeal seen by more people and started to collect thousands of donations.

Businesses have also now started to host their own coffee morning events to get even more biscuits.