50th Anniversary Gifts Found In Norwich
18 April 2015, 06:00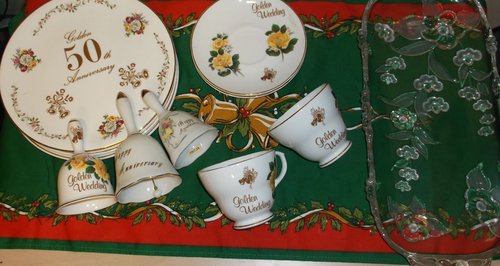 Police in Norwich want to reunite a couple with presents from their golden wedding anniversary.
They discovered a whole host of items they think are stolen in a woodland in Knowland Grove in Norwich.
The police found:
- Four porcelain female figurines
- A white porcelain boot with 'Golden Wedding' inscribed
- China plates, tea cups and saucers with 'Golden 50th Anniversary' inscribed
- China bells with 'Golden Wedding' and 'Happy Anniversary' inscribed
- A white and blue ornamental vase
- Two cardboard printed 'celebration commendation awards' to 'the world's best Grandad' and 'my wonderful Nanna'
- A clear glass serving plate
- A green and red table centre cloth
- A plastic bible ornament
Officers are asking the owners to come forward so they can give them back their property.
Anyone who believes that any of these items may be theirs should contact PCSO Daniel Chilvers at Norfolk Constabulary on 101 giving a description of the items.