Architects' Plans Revealed For Upper Orwell Crossings In Ipswich
11 March 2017, 09:08 | Updated: 11 March 2017, 09:13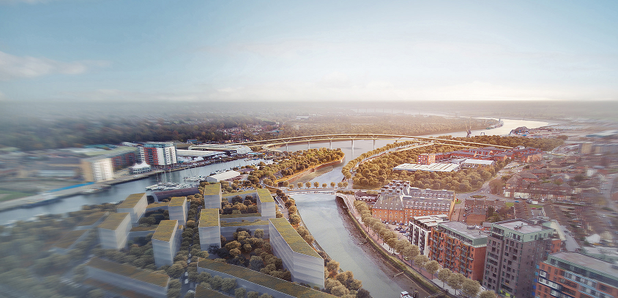 The first look at plans for the Upper Orwell Crossings in Ipswich have been revealed, now the architects have been selected.
Suffolk County Council has announced that Foster + Partners has been selected as the architectural team to join the Upper Orwell Crossings project in Ipswich.
The crossings will be the second project Foster + Partners has undertaken in the town, following the construction of the architecturally significant Willis Building in Ipswich town centre.
Foster + Partners impressed the panel by the quality of their overall approach and thinking, including the initial design concepts presented for the project's three crossings. The approaches were considered to have the potential to enhance Ipswich's thriving waterfront, as well as acting as a catalyst for regeneration of the wider harbour area.
The county council and key partners, including Ipswich Borough Council and Ipswich Vision, keenly anticipate seeing the initial design ideas developed further with the wider project team and in consultation with local businesses, communities and residents.
Cllr Colin Noble, Leader of Suffolk County Council, said: "The announcement of Foster + Partners being selected as the architectural team behind the Upper Orwell Crossings is a great outcome for Ipswich and Suffolk as a whole.
"The design element of the project is crucial and with Foster + Partners' input I believe the final design of the crossings, once completed, will be looked at in the same light as their iconic Willis Building in Ipswich's town centre.
"We are excited to be working with such a highly-regarded group for this project that is important for the town as it enables us to reap benefits that will greatly outweigh the cost of the project."
Ben Gummer, Member of Parliament for Ipswich, said: "This is one of the most important moments for Ipswich for many decades.
"It is difficult to overstate the importance both of what the bridge will do and also what it represents. The fact that we will have what will be a globally recognised bridge of beauty will say something powerful about our town's ambition and our place not just in our county, or our region, or our country, but in the world.
"We were, as a panel, profoundly impressed by the quality of designs brought forward by all of the competition entrants and I would like to thank them for the time and energy and passion that they put into their work.
"However, we were all agreed that the proposal put forward by Foster + Partners was exceptional. Not only are they sensational designs – simple, elegant, beautiful – but they draw on true understanding of the economic rationale for this bridge: jobs, growth, prosperity, sustainability.