Broads Clean Up By 14 Year Old Boy In A Kayak
31 August 2018, 16:00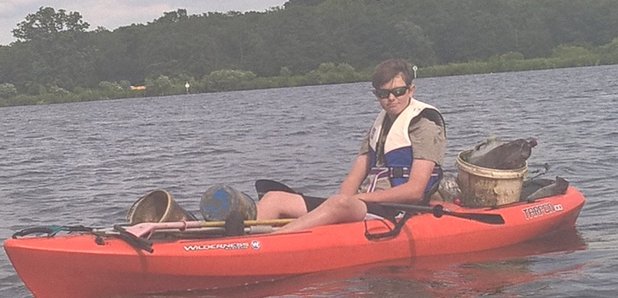 14 year old William Darling from Wroxham in Norfolk has spent his summer holiday this year clearing litter from a long stretch of the Norfolk and Suffolk broads- from aboard his kayak- as part of his 'Great Broads Clean Up' challenge.
The student, from Broadland High School, had the opportunity to be part of an expedition to Tanzania, where part of his time will be spent clearing the beaches there of plastic. William decided that in order to raise funds for the trip he would start by focusing his clean-up efforts closer to home by using his passion for kayaking to pick litter from the broads.
William says that picking litter from his kayak is the most effective way: "The majority of rubbish is trapped in reeds, under over-hanging trees or in dense bushes- picking it up from my kayak is a lot easier and safer."
So far William, supported by his father, Peter, has collected car tyres, paint cans, plastic bottles, plastic carrier bags and fishing tackle from the river.
Water company Anglian Water has stepped up as one of the principal sponsors of this valuable environmental clean up campaign as part of its commitment earlier this year to work with partners across the region to rid the East of England of problem plastics by 2030.
Catchment and Coastal Strategy Manager Lu Gilfoyle comments: It's fantastic to see William taking personal responsibility for where he lives and we're proud to support him in this impressive challenge! We set up our RiverCare and BeachCare programmes to encourage volunteer led clean-up activity right across our region with the aim of protecting and enhancing our rivers and oceans. It's hard work and never-ending so individuals like William should be celebrated! We are particularly pleased to see how much plastic this initiative has removed. "
Along with this support, William has received sponsorship from other local businesses and organisations including the Norfolk Yacht Agency, Herbert Woods and Norfolk Broads Direct, as well as many other individuals and smaller local businesses.
William comments: "The support I've had with funding has been great, it's definitely kept me going every day and I've now covered over 100 miles of river in my kayak and the broads are looking a lot smarter!"
William is also looking for volunteers to join him on the river to complete the mammoth task: "I'll continue to kayak and litter pick on weekends and evenings until the job is done but if anyone locally has a kayak and wants to come and join me, I would welcome the help!"
William and his Dad are already looking ahead at how they can keep the Great Broads Clean Up alive to tackle the challenge of litter on the broads on an on-going basis. What began as a quest to raise funds for William's school trip is now something far bigger: "I want to support other pupils who may in the future wish to take on the "Great Broads Clean Up."