Campaign Launched To Improve Diabetes Awareness
14 November 2017, 08:35 | Updated: 14 November 2017, 08:37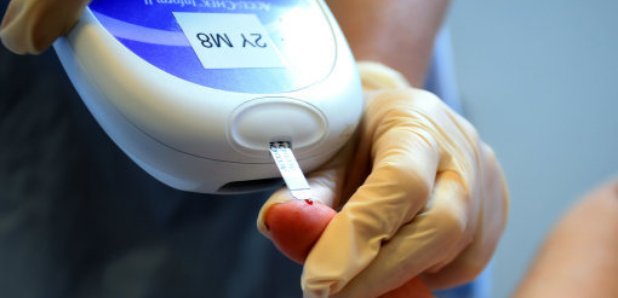 Clinicians across Suffolk are launching a major public awareness campaign in order to improve awareness of diabetes.
At least 29,000 people in Suffolk currently live with the condition, which if not managed correctly can result in serious health complications such as blindness, kidney failure, stroke and loss of limbs.

The campaign - called 'Let's Beat Diabetes Together' - has been launched to mark World Diabetes Day today.
It aims to help people with both type 1 and type 2 diabetes manage their health better.

Health chiefs also aim to educate the wider public about how they can help prevent developing type 2 diabetes in the first place by making modest adjustments to their lifestyles and diets.

According to the charity Diabetes UK the cost to the nation associated with treating diabetes currently stands at £23.7 billion-a-year. That figure is expected to almost double over the next 20 years.

Professor Gerry Rayman, Senior Diabetologist and lead of diabetes research at Ipswich Hospital's Diabetes Centre, said: "Diabetes is fast becoming the biggest health threat in the UK and can reduce life expectancy.

"However, if managed correctly, many people can go on to lead happy and independent lives without developing these complications."

Prof Rayman, who is also an adviser to Diabetes UK and Clinical Lead in Diabetes for NHS Improvement's national diabetes improvement initiative GIRFT (Getting It Right First Time), advised people with diabetes to undergo regular checks to ensure they are controlling their condition.

He said: "They should monitor their cholesterol, blood pressure and kidney function to ensure they are kept at safe levels to avoid future complications.

"It is essential that everyone living with diabetes has a chance to learn how they can manage their condition well and how their health care provider can help. All will be revealed to them when they attend one of these essential courses."

The NHS provides two nationally-recognised courses which are designed to support people living withheart Type 1 and Type 2 diabetes.

The aim of both is to empower people with diabetes to be confident in self-managing the condition.
Julie (Nicholls), from Glemsford in Suffolk, who lives with type 2 diabetes, attended a DESMOND course after being diagnosed three months ago.

She said: "I've always had a healthy and balanced diet but many years ago I had to have my gall bladder removed and I developed pancreatitis.

"I was left with a damaged pancreas which is getting more and more sluggish as I grow older and so I have had to be very careful about what I eat.

"My doctor suggested I attend a one-day DESMOND course which was taking place in Sudbury and said he thought it would help me manage my diabetes - and he was right.

"The people running the course told us about the amount of fat and sugars in a whole host of different foods and it was a real eye-opener to everyone on the course.

"It was extremely informative and I'd recommend it to anyone with type 2 diabetes."