Cancer Sufferers In East Anglia Get 'Little Lift'
9 October 2018, 17:06 | Updated: 9 October 2018, 17:25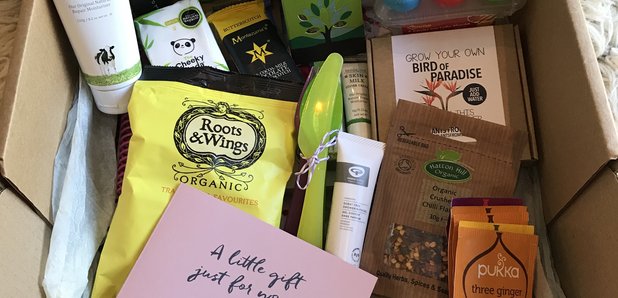 A local charity is celebratin ONE year, of giving out comfort boxes to women diagnosed with primary breast cancer in Norfolk and Suffolk.
Each box has handpicked items inside like herbal teas for hydration and plastic cutlery to help avoid the metallic taste - to help patients during chemotherapy and recovery.

Founder, Oa Hackett, created the boxes after her own chemotherapy because she wanted to support other women through the process. She told Heart "Women can suffer with a sore mouth during treatment, so we've got a variety of products in here to help with that: a soft toothbrush, lolly recipes, lolly moulds, sweets, we've got cordial that can help with loss of taste.

"Two of my very good friends presented me with this plant, they said 'by the time it blooms your treatment will be finished'. That's why we put a plant in the box, for other women to grow their plants to help signify the end of their treatment."

So far, more than 160 boxes have been given out and through donations and fundraisers, Little Lifts hopes to grow and expand to offer boxes to everyone diagnosed in the local area.

Liz Ireland, who was diagnosed in March, told Heart "It does exactly what it says on the box. Each item inside gives you that vital little lift when you are feeling alone, you are feeling down or struggling with the side effects of chemotherapy.

"Tears were pouring down my face as I (opened) it, because I was suddenly surrounded by the warmth of many other women who had gone before me and come through and gone on to live their lives. The box is a reminder of that network of knowledge and support."