'Causes of concern' at custody suites in East Anglia
2 October 2018, 07:09 | Updated: 2 October 2018, 07:36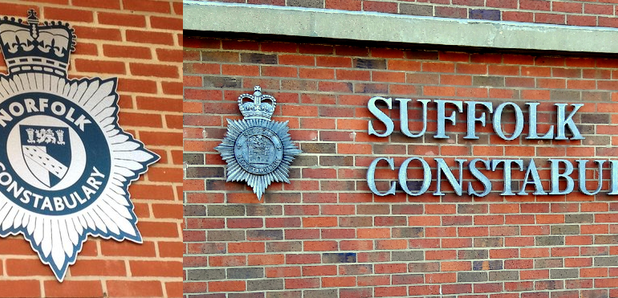 An inspection of custody facilities run in a collaboration between Norfolk and Suffolk police was "positive overall", though inspectors identified some causes of concern.
Visiting six custody suites across the two force areas between 14 and 25 May 2018, inspectors from two criminal justice inspectorates found strong governance and clear, joint accountability for custody. Strengths included clean, well-maintained modern suites, with no identified potential ligature points or graffiti.
The suites were run by well trained staff who, though stretched at busy times, showed patient respectful treatment of detainees. In particular, staff dealt well with challenging detainees, often de-escalating situations.
Officers and staff also had a good understanding of their safeguarding responsibilities to children and vulnerable detainees. The two forces had significantly reduced the number of people detained in police cells under the Mental Health Act and both forces also recorded falls in the numbers of children entering custody.
The joint inspection team - from HM Inspectorate of Prisons and HM Inspectorate of Constabulary and Fire & Rescue Services - identified principal concerns related to:
- Too many areas where the force did not comply with legislation or guidance, notably code C of the Police and Criminal Evidence Act (PACE) codes of practice, which relates to reviews of custody detention. Inspectors said: "This required immediate remedial action, with arrangements to demonstrate compliance."
- Though de-escalation was evident, the governance and oversight of the use force in custody were not adequate. Data were unreliable and some use of force was disproportionate to the risk posed. "Norfolk and Suffolk constabularies did not record all incidents involving force in the custody suites," inspectors said.
Inspectors also noted an area for improvement that is regularly seen in police custody inspections. Though officers and staff deal well with children in custody, "other partner agencies' lack of capacity or capability meant that too many children who were charged and had bail refused were detained in custody overnight when alternative accommodation should have been provided."
Overall, Peter Clarke, HM Chief Inspector of Prisons, and Wendy Williams, HM Inspector of Constabulary, said:
"Norfolk and Suffolk constabularies made efforts to achieve the recommendations made at our previous inspection (in 2012) and demonstrated progress in many areas. This inspection…was positive overall. We identified two causes of concern and a number of areas requiring improvement, which we were confident that the forces' leadership arrangements would enable them to address."