Consultation Opens On Upgrade Plans For A47
10 September 2018, 16:05 | Updated: 10 September 2018, 17:17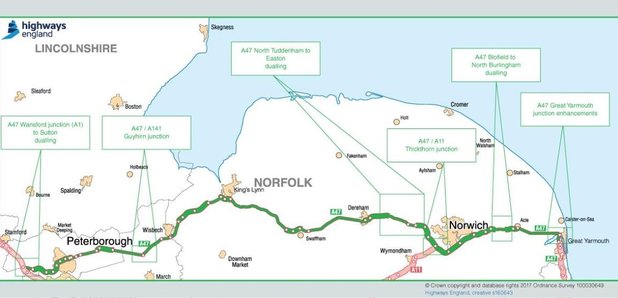 Road users are being invited to share their views on a proposed new dual carriageway section of the A47 in Norfolk.
In August last year, Highways England announced its preferred route for upgrading the A47 between Blofield and North Burlingham from single to dual carriageway as part of a £300 million upgrade of the key route connecting East Anglia with the midlands.

Following a previous consultation, the option selected will see a new stretch of dual carriageway built around 70 metres to the south of the existing A47.

Now people are being asked to share their views on the specifics of this route, to help ensure the improvements deliver the best possible outcomes for people using and loving near the road.

Senior Project Manager, Claudia Wegener, told Heart "the benefits are a reduction in the travel time. It's going to be up to 4 minutes faster... and a redution in the number of accidents.

"Ultimately this is about improving their lives and their ability to move around and be safe... so we need their feedback"

Highways England programme lead for the A47, Guy Lewis, said: "We had a great response to the first stage of consultation we did last year to help us decide which would be the best route for this new dual carriageway, and we hope road users participate fully in this consultation too to help refine our plans for this investment.

"There are a number of ways in which people can take part, and we'll be hosting several events for them to come and talk with the team so they can share their thoughts, concerns and feedback. This new dual carriageway is one of six schemes we'll be doing to upgrade the A47, and it's important that we get it right for road users and the affected communities."

You can take part in the consultation, which runs from today until midnight on the 19th October, by visiting highwaysengland.co.uk/projects/a47-blofield-to-north-burlingham/, by e-mailing your response to A47BlofieldtoNorthBurlinghamRIS@highwaysengland.co.uk, or by writing to FREEPOST A47 Blofield and North Burlingham.

There will also be four public events at which you can have your say and speak with members of the team:
" Castle Mall, 100 Castle Meadow, Norwich, NR1 3DD, on Saturday 15 September, from 11am to 5pm;
" Acle Recreation Centre, Acle, Norwich, Norfolk, NR13 3RA on Saturday 22 September, from 11am to 5pm;
" Blofield Courthouse, Yarmouth Road, Blofield, Norwich, NR13 4JU, on Monday 24 September, from 1pm to 8pm, and;
" Lingwood Village Hall, Station Road, Lingwood, Norwich, NR13 4AZ, on Tuesday 25 September, from 1pm to 8pm.

A further two sections of the 115-mile stretch of the A47 between Peterborough and Great Yarmouth will also be upgraded to dual carriageway, between North Tuddenham and Easton in Norfolk, and between Wansford and Sutton near Peterborough, Cambridgeshire.

There will also be junction improvements at the A11 Thickthorn interchange at Norwich, at the A141 junction in Guyhirn, and in Great Yarmouth.

The six projects are all part of the Government's record £15 billion investment in England's motorways and major A roads, with £3 billion of that being invested in the East of England.